Uber's $18 Billion Valuation Seen As Milestone For Tech Companies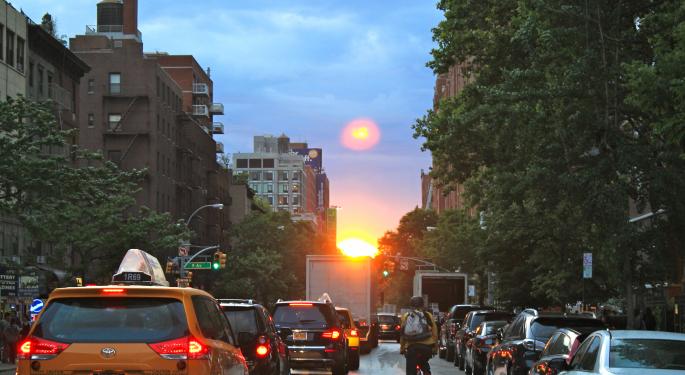 Even as the so-called tech bubble reaches new heights, the recent $18 billion valuation of a taxi-hailing app called Uber Technology Inc. is widely seen -- for good or ill -- as a milestone.
Uber is now the second-most highly valued start-up after Facebook (NASDAQ: FB), according to The Wall Street Journal.
But asserting a value of $18 billion for a business that generated $200 million in revenue last year is called "absurd" by Nils Pratley of The Guardian.
Other analysts worry that Uber may be open to endless liability suits, stemming from inevitable accidents caused by its poorly-screened drivers.
Yet some say that even at $18 billion, Uber remains undervalued.
Uber takes 20 percent of drivers' receipts. If it became involved in half the U.S. taxi market, Uber's revenue would rise to $1 billion, according to the New York Times' Andrew Sorkin.
Related: Lululemon Athletica Hits New Low, 'Lacks Catalyst'
Four years after the company's startup, "we're just beginning," Uber chief executive Travis Kalanick said in a statement -- while also announcing the recent financing and valuation by a consortium of investors led by Fidelity Investments.
"We are operating in 128 cities in 37 countries around the world," Kalanick added, "with hundreds of thousands of transportation providers and millions of consumers connecting to our platform."
The supposed key to Uber's future is its potential as a sofware platform for shipping and logistics, eventually putting it in competition with FedEx (NYSE: FDX) and United Parcel Service Inc. (NYSE: UPS).
Uber recently launched a courier delivery service in New York, called Uber Rush, which Kalanick described as experimental.
Uber lost the right to service California airports on Thursday, when state regulators complained its drivers lack permits and insurance. The company told the San Francisco Chronicle that it is working to obtain the permits.
Similarly, the state of Virginia recently sent Uber a cease-and-desist order, while London taxi cab drivers staged a massive protest over the company's practices.
View Comments and Join the Discussion!
Posted-In: Andrew Sorkin automotiveNews Financing Travel Tech Media General