LeBron James' Off-Court Deal With Beats Reportedly Nets Him Over $30 Million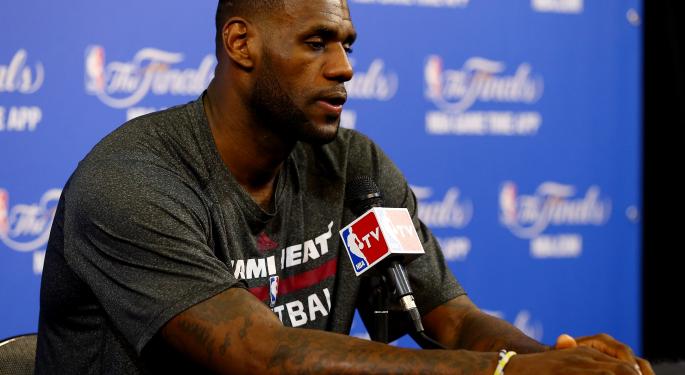 One of journalism's cardinal sins is "burying the lede," the act of putting a key piece of headline-making information too far down in a story.
Some financial writers are wondering if a recent ESPN posting deliberately buried the lede – when it nonchalantly dropped a big business story in the middle of an article on NBA trade rumors.
ESPN ran the story in question on Thursday. While the story discussed player's abilities and possible lineups, it let loose the following tidbit of news – regarding basketball superstar LeBron James.
"James' off-court business is booming, thanks to a string of investments paying off massively and the prospect of new opportunities in endorsements and entertainment projects promising to expand his wealth significantly in coming years."
And, the article continued, "Sources say the 29-year-old was finalizing what is believed to be the biggest equity cash payout for a professional athlete in history as part of Apple's (NASDAQ: AAPL) recent $3 billion purchase of Beats Electronics. Sources briefed on the situation say James realized a profit of more than $30 million in cash and stock in the Beats sale after he had struck a deal to get a small stake in the company at its inception in 2008 in exchange for promoting its high-end headphones."
Related Link: Triple Crown Waits Another Year
LeBron's near-constant wearing of Beats headphones has certainly helped raised the brand's profile. But given Beats was created by hiphop artist and producer Dr. Dre and Jimmy Iovine, chairman of Interscope Geffen A&M Records, the high-end headphones have seemed destined for profitability.
LeBron, a longtime fan of Dr. Dre, also teamed up with the rap superstar to help create the company's Powerbeats product; earphone designed to be used during athletics.
James isn't the first high-profile professional athlete to set up an equity sponsorship deal.
Several years ago, ESPN noted that Dwayne Wade – LeBron's teammate on the Miami Heat – left the Jordan Brand of footwear, owned by Nike (NYSE: NKE), for a deal with China's Li-Ning athletic shoe company.
But in LeBron's case, as Gail Sullivan pointed out in The Washington Post, the Beats deal means James will now be getting "$11 million more than he makes per year for doing what he does best, playing basketball."
Posted-In: basketball Beats by Dr. Dre Beats Electronics Beats HeadphonesSuccess Stories Tech Media General Best of Benzinga
View Comments and Join the Discussion!