Elon Musk Teases Something 'Fairly Controversial' Regarding Tesla Patents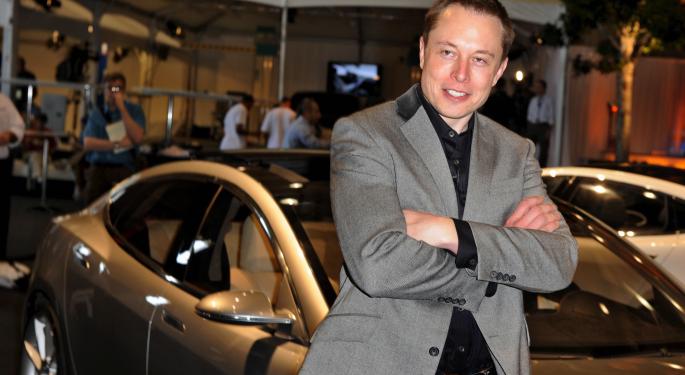 When Tesla (NASDAQ: TSLA) CEO Elon Musk says something provocative, people listen. At Tuesday's shareholder meeting, Musk said he was thinking about doing something "fairly controversial" with Tesla's patents.
The comment followed Musk's observation that he was surprised competitors had not made more progress with regard to electric cars. This, plus his "fairly controversial" comment, led to speculation that Musk might be considering some sort of "open source" licensing regarding Tesla's unique technology.
While Musk wouldn't elaborate, he did add that this involved a decision he would have to "carefully explain."
Related: Billionaire Face-Off: Fisker's Lu Guanqiu Takes On Tesla's Elon Musk
Tesla sold 22,500 cars in 2013 and expects to sell 35,000 this year thanks to technology that permits longer range per charge than the competition. The company said it would also double the number of high-speed "supercharger" electric stations that would allow Model S owners to drive cross-country without having to worry about locating a charging station.
At the shareholder meeting, Musk said, "I was hoping other companies would engage in more serious electric-car programs."
"I'm trying to think of ways to help that along that would be a good outcome," he added. "I don't think their success is to Tesla's detriment because ultimately we need all cars to go electric, and the car market is enormous…even if all cars were electric immediately all new cars, produced, it would take 20 years to replace the fleet."
Meanwhile, news about Tesla's proposed new battery Gigafactory took on a controversial life of its own. As opposed to the "two-state" factory competition the company had described previously, it now says it might go with three states.
Related: Intel Wants In On Self-Driving Cars
In announcing that news, Musk said Tesla is still on track to choose the winning state by the end of 2014. The Gigafactory, wherever it lands, is expected to begin production by 2017, two full years after construction begins.
There was speculation the new three-state contest could be good news for California, widely considered a dark horse candidate in a field that also includes Arizona, Nevada, New Mexico and Texas.
Musk also said he planned to stay on as head of Tesla for four or five years. He said he wanted to be there as the company began production of its long-promised "affordable" $35,000 electric vehicle with a range of 200 miles.
At the time of this writing, Jim Probasco had no position in any mentioned securities.
Posted-In: Elon Musk Gigafactory Model S TeslaNews Events Tech Best of Benzinga
View Comments and Join the Discussion!