Are Obama's New Climate Rules More About Killing Jobs Or Saving Lives?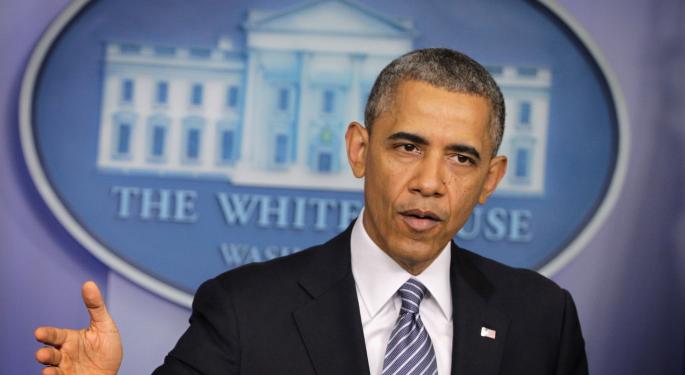 According to The Washington Post, the U.S. Chamber of Commerce released a report saying the Obama administration's proposed plan to reduce carbon emissions from power plants by 30 percent over the next 16 years would cost businesses more than $50 billion per year.
The Natural Resources Defense Council, however, said the new rule would save money overall. The Environmental Protection Agency's analysis also concluded benefits would outweigh costs.
According to the EPA, many of those benefits would come from improved health conditions and longer life spans. According to the EPA, for every $1 invested in reducing carbon emissions, Americans would see a net gain of $7 in health-benefits.
Related: How The Obama Climate Change Rules Might Affect ETFs
Increased costs associated with the new rule seemed obvious. Bloomberg said the transition from coal to renewable energy sources would cost coal-dependent power companies like American Electric Power (NYSE: AEP) and Duke Energy (NYSE: DUK) billions of dollars.
Individual states would have flexibility in determining how to meet emission standards, including whether consumers would be required to pay for the shift from coal to less-polluting energy sources.
In contrast to AEP and Duke, companies like Chicago-based Exelon (NYSE: EXC) that promote solar, wind and nuclear power sources would stand to gain, as the focus on how electricity is generated in the U.S. changes over coming years.
In addition to Exelon, utility companies that have already invested in low-carbon infrastructure, including PG&E (NYSE: PCG) and Calpine (NYSE: CPN), were also happy to see proposed stricter limits on greenhouse-gas emissions.
While 83,000 coal miners, many in West Virginia and North Dakota, would find their jobs at risk, the number of jobs created in the renewable energy sector should more than offset losses.
Robert Rafson, President of Muskegon, Michigan-based renewable-energy firm, Chart House Energy, noted, "Renewable-energy jobs have actually been one of the few sectors that increased during this past recession and not gone down with the rest of the economy. I think that new action by EPA is going to spur additional investments and innovation."
Meanwhile, Rafson's comments provided little solace to Rep. Shelley Moore Capito of West Virginia, who wrote to President Obama saying, "I urge you to consider the impact that your administration's existing coal plant rule will have on the people of my state of West Virginia who want to go to work, provide for their families and produce affordable energy that powers our economy."
Finally, the Obama administration believes the proposal would give the U.S. ammunition as it seeks to convince developing nations like India and China to adopt similar measures.
At the time of this writing, Jim Probasco had no position in any mentioned securities.
View Comments and Join the Discussion!
Posted-In: American Electric Power Calpine Duke Energy Corp. Environmental Protection AgencyPolitics Top Stories Economics General Best of Benzinga