Benzinga's Weekend M&A Chatter for Monday June 2, 2014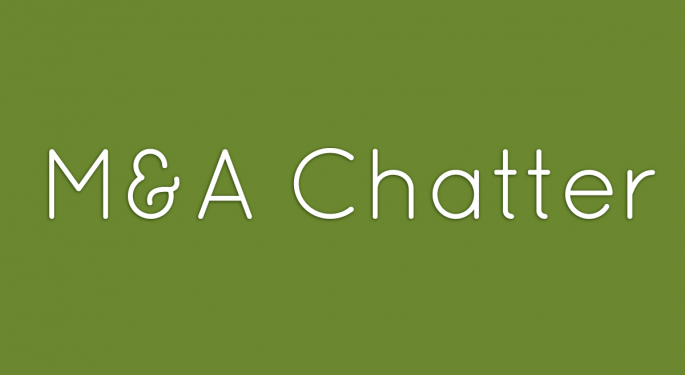 The following are the M&A deals, rumors and chatter circulating on Wall Street for Monday June 2, 2014:
Pershing Square's Ackman Says Launching Process to Solicit Special Meeting of Allergan Shareholders
The Revised Offer:
Pershing Square's Bill Ackman filed a preliminary proxy statement Monday with the SEC, to begin the process of seeking to call a special meeting of Allergan (NYSE: AGN) stockholders to, among other things, remove a majority of the Issuer's board of directors, request replacement directors and adopt a precatory resolution requesting the Issuer to promptly engage in good faith discussions with Valeant Pharmaceuticals (NYSE: VRX), regarding Valeant's offer to merge with Allergan, without in any way precluding discussions the Board may choose to engage in with other parties potentially offering higher value.
Valeant (NYSE: VRX) had announced Friday a revised offer for Allergan of $72.00 in cash and 0.83 shares of Valeant common stock for each share of Allergan common stock outstanding, plus a Contingent Value Right for DARPin of up to $25.00 per share.
Allergan acknowledged the filing by Pershing Square and urged its stockholders to refrain from taking any action, including returning any proxy card sent by co-bidders Pershing Square and Valeant, until they have reviewed the recommendation of Allergan's Board of Directors.
Allergan shares gained almost 3% Monday, to close at $172.24. Valeant closed at $134.17, a gain of more than 2%.
Endurance Raises Offer for Aspen to $49.50/Share
The Offer:
Endurance Specialty Holdings (NYSE: ENH) announced Monday that it is increasing its offer to $49.50 per share in cash and Endurance common shares, to acquire Aspen Insurance Holdings (NYSE: AHL). The initial proposal of April 14, was $47.50 per share in cash and stock.
Aspen's directors unanimously rejected the revised proposal from Endurance, with Aspen's Chairman, Glyn Jones, saying "Endurance's revised proposal represents a backwards step in their efforts to pursue what has always been an ill-conceived transaction. Given Aspen's strong 4.4% book value growth in the first quarter, Endurance's new proposal represents an even lower multiple of book value per share than its initial proposal, and the stock portion of the proposal lags even further behind given the decline in Endurance's stock price since its initial proposal."
Aspen Insurance Holdings closed Monday at $45.53, a loss of $0.62. Endurance Specialty Holdings lost $0.21 to close at $73.69.
B/E Aerospace Acquires Two Manufacturing Businesses for $470M
The Deal:
B/E Aerospace (NASDAQ: BEAV) announced Monday that it has agreed to acquire provider of aircraft interior and exterior lighting systems, EMTEQ. B/E Aerospace also announced that it has agreed to acquire manufacturer of seating products for civilian helicopters, F + E + Fischer GmbH & Co.KG.
The total purchase price for both companies is approximately $470 million. The EMTEQ deal is expected to close in June, while the Fischer deal is expected to close in early Q3 of 2014.
B/E Aerospace closed Monday at $96.61, a loss of $0.14.
PHH Corporation to Sell its Fleet Management Services Business to Element Financial for $1.4B in Cash
The Deal::
PHH Corporation (NYSE: PHH) announced Monday that it has entered into a definitive agreement to sell its Fleet Management Services business, PHH Arval, to Element Financial Corporation (OTC: ELEEF) for approximately $1.40 billion in cash. The deal, which had been rumored since January, is expected to close on or before July 31, 2014.
PHH Corporation closed Monday at $25.25, and traded up 1% after hours at $25.50.
View Comments and Join the Discussion!
Posted-In: M&A News Rumors Hedge Funds Movers & Shakers Management Movers General