Intel Wants In On Self-Driving Cars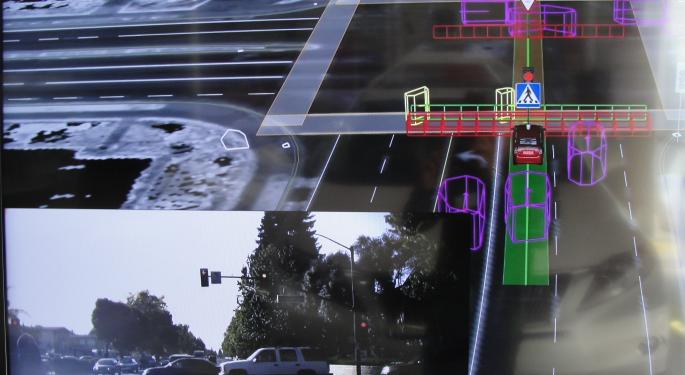 Google (NASDAQ: GOOG)(NASDAQ: GOOGL) has plans to build 200 self-driving cars. Intel (NASDAQ: INTC) wants in on the action.
The world's largest chipmaker said Thursday that it would provide an "application ready platform" with processors and OS for autonomous vehicles. It's all part of Intel's larger campaign to participate widely in the so-called "Internet of things."
Intel said its efforts would include in-house research, as well as investment in other companies out of a $100 million car technology fund it established in 2012.
Related: AutoHarvest Plays Key Role In Ford's Inflatable Seat Belt Licensing
Corporate VP of Intel's Internet of Things Group, Doug Davis said, "To further strengthen Intel's technology partnership with the automotive industry and prepare for the future, we are combining our breadth of experience in consumer electronics and enterprise IT with a holistic automotive investment across product development, industry partnerships and groundbreaking research efforts.
"Our goal is to fuel the evolution from convenience features available in the car today to enhanced safety features of tomorrow and eventually self-driving capabilities."
Intel said it plans to use high-powered processors, its Tizen OS and Internet connectivity to provide autonomous cars the ability to avoid accidents, alert drivers of danger and display real-time information on traffic or schedules.
Some of these proposed features were designed to supply information to assist drivers as opposed to passengers in an autonomous vehicle. It's all part of Intel's strategy to start with driver assistance products and slowly ramp up to autonomous systems.
Intel said it would be up to carmakers to decide how or whether they want to use Intel branding in their vehicles.
Intel's car technology fund has invested in autonomous driving platform maker, ZMP; CloudMade, a data and cloud company; security platform provider, Mocana; and Tobii Technology, a company that does eye-tracking research.
To date, Intel has provided technology for BMW's Navigation System Professional, the Infiniti InTouch infotainment system in the Infiniti Q50 and the Driver Information System in the 2015 Hyundai Genesis.
Intel's approach – working on driver assistance first – has the additional practical application of allowing time for the answering of many questions and concerns being raised about autonomous vehicles, including public acceptance and legal liability.
At the time of this writing, Jim Probasco had no position in any mentioned securities.
View Comments and Join the Discussion!
Posted-In: BMW Google Hyundai Infiniti Intel TizenTech Best of Benzinga