Benzinga's Weekend M&A Chatter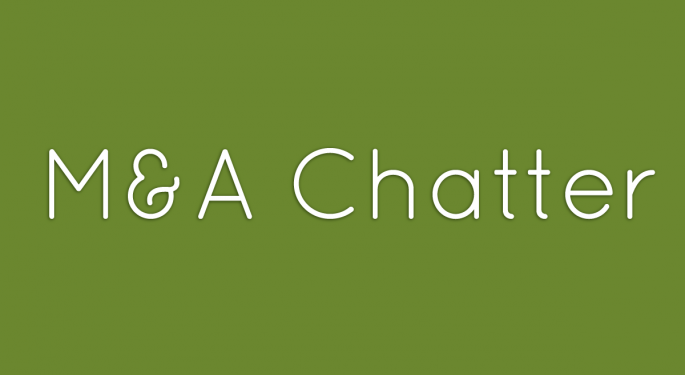 The following are the M&A deals, rumors and chatter circulating on Wall Street for Friday May 23, 2014 through Monday May 26, 2014:
Pfizer Gives Up on AstraZeneca, for Now
The Abandoned Bid:
Pfizer (NYSE: PFE) has abandoned its plans to acquire UK drug maker AstraZeneca (NYSE: AZN), at least for now, following AZN's rejection of Pfizer's "final" offer of £55 per share. In a statement, Pfizer Chairman and CEO Ian Read said: "We continue to believe that our final proposal was compelling and represented full value for AstraZeneca based on the information that was available to us. As we said from the start, the pursuit of this transaction was a potential enhancement to our existing strategy. We will continue our focus on the execution of our plans, bringing forth new treatments to meet patients' needs and remaining responsible stewards of our shareholders' capital." Read did not rule out resuming discussions at a later date.
Meanwhile, Dow Jones is reporting that AstraZeneca has hired Centerview Partners to advise on potential deals, according to sources.
AstraZeneca shares gained $0.12 Friday to close at $72.28, while Pfizer lost $0.17 to close at $29.49. U.S. and U.K. markets were closed Monday for holidays.
Barron's Mentions 12 Potential Targets for Google
Who Will Google Buy Next?:
Google (NASDAQ: GOOG) could be in the market to take advantage of certain stocks trading at bargain prices, according to Barron's. The publication mentions Wi-Fi service providers Ruckus Wireless (NASDAQ: RKUS), iPass (NASDAQ: IPAS), Boingo Wireless (NASDAQ: WIFI) and Gogo (NASDAQ: GOGO) as potential targets.
In the area related to wearables, chip makers STMicroelectronics (NYSE: STM), QuickLogic (NASDAQ: QUIK), NXP Semiconductors (NASDAQ: NXPI). Finally, the article speculates machine data management company Splunk (NASDAQ: SPLK) and speech recognition software company Nuance Communications (NASDAQ: NUAN) could be possible acquisitions.
Google closed Friday at $552.70, a gain of 1.5%.
Reuters Mentions Potential Acquisition Tarkets for Warren Buffett and Berkshire Hathaway
What is Buffet's Next Acquisition Target?::
Reuters is speculating on Warren Buffet's next energy-related acquisition. The article mentions Pinnacle West (NYSE: PNW), Baker Hughes (NYSE: BHI), Williams Partners (NYSE: WMZ) are mentioned as the Oracle of Omaha's potential targets.
Berkshire Hathaway closed Friday at $47.63, a gain of 1.5%.
LiveDeal Shares Double on Company Statement Regarding Acquisitions
The Guidance:
Shares of LiveDeal (NASDAQ: LIVE) traded as high as $5.03 Friday, on a report from the company that they have a $10 million cash position currently, enough to help the company expand through acquisitions. LiveDeal CEO Jon Isaac believes the company can be a leader in the goods and services space through continued expansion.
LiveDeal shares ended the day Friday at $4.42, a gain of almost 86% on 20 times average volume.
Microchip Technology Acquires ISSC Technologies for Approximately $328.5M in Equity Value
The Deal:
Microchip Technology (NASDAQ: MCHP) and ISSC Technologies announced Friday an agreement, under which MCHP will acquire the provider of low power Bluetooth and advanced wireless solutions for NT$143 per share or approximately US$4.74 per share, for a total equity value of approximately $328.5 million.
The tender offer is expected to close in Q3 2014 and the merger in Q4.
Microchip Technology shares gained $0.10 Friday, closing at $46.64.
Siemens Preparing Final Bid for Alstom
The Deal:
Siemens (OTC: SMAWF) is preparing to make a final bid for Alstom (OTC: ALSMY), according to sources reported by Reuters. Siemens proposal is reportedly to transfer its rail activities and under €7 billion in cash to Alstom, in exchange for its power assets. The cash component is slightly more than half of what GE (NYSE: GE) is offering.
Siemens and Alstom declined to comment on the report.
GE closed flat, at $26.51 on Friday.
Posted-In: News Rumors Management M&A Movers
View Comments and Join the Discussion!