Abercrombie & Fitch Earnings Preview: Poised For A Fall?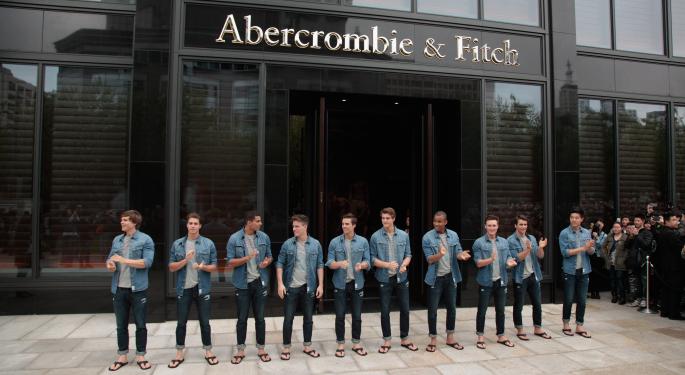 Abercrombie & Fitch (NYSE: ANF), which like other fashion retailers targeting teens at the mall has taken a beating in the past year, is scheduled to report its fiscal first-quarter 2014 results Thursday, May 29, before the markets open.
Despite a rough 2013, the share price has risen more than 4% in the past few weeks leading into the earnings report. The question investors must ask is whether that is a sign of genuine optimism or the stock is simply poised for a fall.
See also: Tough Retail Earnings Environment
Expectations
Analysts on average predict that Abercrombie will report revenue for the quarter that declined almost five percent year-over-year to $797.86 million. A net loss of $0.19 per share is also in the consensus forecast. That would be wider than the reported loss of $0.09 per share in the comparable quarter of last year.
The consensus estimate 60 days ago was for a net loss of $0.18 per share. However, note that Abercrombie exceeded consensus EPS estimates by more than 30 percent in the fourth quarter and by more than 15 percent in the period before that.
In the fourth-quarter report, management pointed to strong direct-to-consumer sales and strong results in China and Japan, but admitted that it had much to do to get the company back on track. The share price slumped almost three percent following the report but quickly recovered.
The consensus forecast for the full year so far calls for earnings up more than 18 percent year-over-year to $2.34 per share, but on revenue that is more than three percent lower to $3.98 billion. That EPS estimate is the same as it was 60 days ago.
The Company
Abercrombie & Fitch is an American retailer that offers primarily casual wear for consumers less than 25 years of age at more than 1,000 stores in the United States and internationally. It also markets it apparel and accessories online. Its brands include Abercrombie & Fitch, abercrombie kids, Hollister and Gilly Hicks.
The company was founded in 1892, and its headquarters are in New Albany, Ohio. It is a component of the S&P 500, and it now has a market capitalization of less than $3 billion. Michael S. Jeffries has been chief executive officer since February 1992 but recently was forced to give up his role as chairman of the board.
Competitors include American Eagle Outfitters, which is expected to report declining revenue and break-even EPS for the current quarter, and Aeropostale, from which analysts expect a wider net loss and a double-digit decline in sales, relative to a year ago.
During the three months that ended in April, Abercrombie eliminated its poison pill plan, announced plans to increase spending on marketing and a shift toward a slightly older audience, hired a new chief financial officer and settled a proxy fight with Engaged Capital.
See also: Abercrombie & Fitch Appoints New CFO
Performance
Abercrombie has a long-term EPS growth forecast of more than 18 percent, and its forward earnings multiple is less than the industry average price-to-earnings (P/E) ratio. Though the operating margin is in line with the industry average, the return on equity is less than three percent. The dividend yield is near 2.2 percent.
The number of Abercrombie shares sold short, as of the most recent settlement date, represents more than 21 percent of the float. That is the second highest level of short interest so far this year. At the current average daily volume, it would take almost eight days to close out all short positions.
The consensus recommendation of analysts surveyed by Thomson/First Call is to hold shares, and it has been for at least three months. A move to their mean price target would represent a gain of more than 13 percent for shares. However, that consensus target is less than the 52-week high.
At the close on Friday, the share price was about 16 percent higher year to date, though shares have traded most between $36 and $38 since early April. The share price was below the 50-day moving averages for most of that period. Over the past six months, the stock has outperformed the competitors mentioned above, as well as Gap, Urban Outfitters and the S&P 500.
At the time of this writing, the author had no position in the mentioned equities.
Keep up with all the latest breaking news and trading ideas by following us on Twitter.
View Comments and Join the Discussion!
Posted-In: abercrombie abercrombie & fitch Aeropostale American Eagle Outfitters GAPNews Previews Trading Ideas Best of Benzinga