Will Spotify's 10 Million Subscribers Scare Off The Apple-Beats Deal?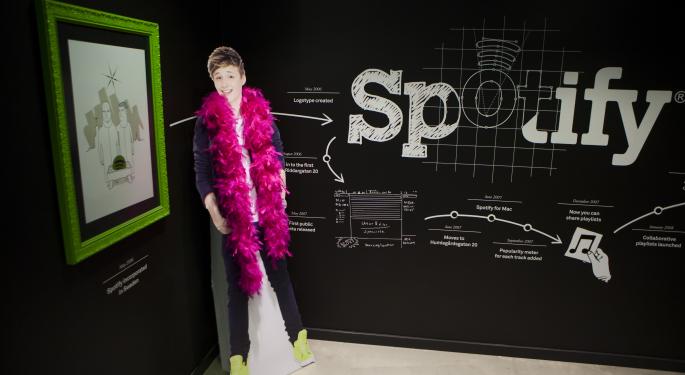 Apple (NASDAQ: AAPL) is still rumored to be interested in purchasing Beats Electronics.
The deal was supposed to be announced a couple of weeks ago, but Apple has yet to confirm its intent to buy the company.
On May 22, TechCrunch reported that the deal is likely to happen. A "well-placed source" told the publication that he/she is 70 percent certain that Apple will buy Beats to utilize Dr. Dre's expertise in fashion and culture.
Earlier in the week, Spin reported that Beats is currently embroiled in at least three legal battles. This could put a damper on any plans Apple may have.
Related: Is Surface Pro 3 Too Expensive?
Additionally, AppleInsider reported that SEC rules could actually allow Apple to stay quiet, regardless of its ultimate decision.
Granted, not everyone is as tight-lipped as Apple's executive team. Some individuals cannot wait to brag about the buyout -- even if it doesn't actually happen.
Walter Isaacson, the famous Steve Jobs biographer, thinks Apple is interested in buying Beats to form a new relationship with the company's co-founder, Jimmy Iovine. Iovine is a music mogul with countless connections within the music and entertainment industries. Isaacson believes that Apple wants Iovine to run Apple's content business.
In that sense, the acquisition could be viewed as a massive signing bonus.
Still, many believe that Apple simply wants Beats to build a formidable competitor to Spotify.
That seemed like a stretch when looking at Spotify's old subscriber data, which showed that the company had 24 million monthly active users -- including six million paying subscribers.
Beats has not released the subscriber data for its service yet, but one report claimed that the service had amassed 525,000 subscribers in just a few months. On May 10, a leaked document contradicted that number, suggesting that Beats Music had 110,000 subscribers.
This week Spotify announced that 10 million people now subscribe to Spotify's premium service. More than 40 million individuals use Spotify every month.
If Apple wants to acquire Beats in order to align itself with two prominent music moguls, the company might as well follow through with its plans. Spotify's success won't change Dr. Dre's popularity, nor will it impact his ability to produce products and records that sell millions of units.
However, if Apple only wants to improve iTunes, Beats may not suffice. It might offer a decent service, but Spotify is the undisputed leader of on-demand music.
Disclosure: At the time of this writing, Louis Bedigian had no position in the equities mentioned in this report.
Posted-In: Apple Beats Beats Electronics Beats Music Dr. Dre iPhoneRumors Tech Best of Benzinga
View Comments and Join the Discussion!