Benzinga's M&A Chatter for Wednesday May 21, 2014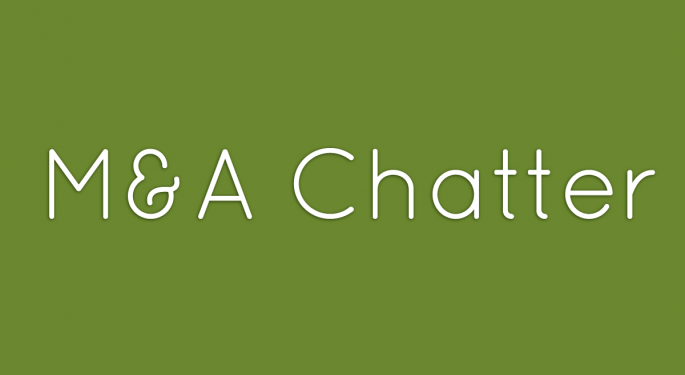 The following are the M&A deals, rumors and chatter circulating on Wall Street for Wednesday May 21, 2014:
Large AstraZeneca Shareholder Wants Company to Talk with Pfizer Regarding £55/Share Offer
The Shareholder Comment:
Shares of AstraZeneca (NYSE: AZN) spiked higher Wednesday morning on a comment by shareholder Axa, that the Astrazeneca Board should not stop Pfizer's (NYSE: PFE) £55/Share bid from being presented to investors. Shares later sold off on as AstraZeneca said that they would not reopen talks with Pfizer before the May 26 deadline.
AstraZeneca rejected Pfizer's 'final' offer of £55.00 per share on Monday. AstraZeneca's Board says the offer "undervalues the company and its attractive prospects".
AstraZeneca shares closed Wednesday at $73.67, a gain of 2%. Pfizer gained 1% to close at $29.57.
Renewable Energy Group Agrees to Acquire Tyson Foods' Half Ownership of Dynamic Fuels for $18M; Potential for Additional $35M
The Deal:
Renewable Energy Group (NASDAQ: REGI) announced an agreement Wednesday with Tyson Foods (NYSE: TSN), to acquire Tyson's 50% stake in Dynamic Fuels. Under the terms of the agreement, an REG subsidiary would acquire Tyson Foods' 50% membership interest in Dynamic Fuels by paying Tyson approximately $18 million in cash at closing, plus up to $35 million in future payments tied to production volume at the Geismar biorefinery over a period of up to eleven and a half years. Renewable Energy Group will also fund repayment of approximately $12 million of Dynamic Fuels' indebtedness to Tyson at closing.
Renewable Energy Group closed Wednesday at $10.15, a gain of 1%, while Tyson shares lost 2%, closing at $39.78.
PHH Confirms Talks on Potential Sale of PHH Arval
The Talks:
Shares of PHH (NYSE: PHH) surged higher midday Wednesday on a report from Reuters the company was in talks with Canada's Element Financial (OTC: ELEEF) regarding a potential sale of PHH's fleet leasing unit for $1.35 billion.
After-hours PHH confirmed the company "is engaged in discussions regarding a potential sale of PHH Arval, its Fleet Management Services business.
PHH shares gained 12% Wednesday, closing at $23.78.
Unilever Reportedly in Advanced Talks to Sell Ragu Pasta Sauce Business $2B+
The Rumor:
Reuters reported Wednesday that Unilever (NYSE: UL) was in talks to sell its Ragu Pasta Sauce business to Mizkan Group for more than $2 billion, according to sources. Mizkan is said to have outbid other food companies, including Hormel (NYSE: HRL) for the Ragu brand.
Spokespersons for Unilever and Mizkan could not be reached for comment.
Uniliver shares gained $0.17 Wednesday, closing at $45.43.
View Comments and Join the Discussion!