Will 12-Inch Tablets Reign Supreme?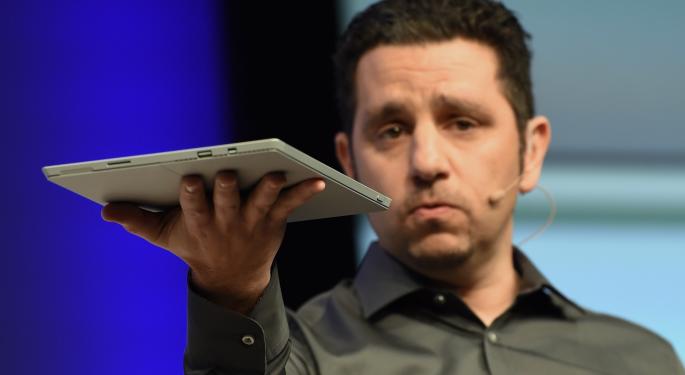 Microsoft (NASDAQ: MSFT) is now among the tablet manufacturers that are building bigger and more powerful tablets.
Is this a sign of things to come, and will consumers embrace the larger format?
"The rumor mill has been hot and heavy around the 12-inch product," Rhoda Alexander, Director of Tablet and Monitor Research at IHS (NYSE: IHS), told Benzinga. "We certainly see a drive for more vendors experimenting with larger form factors in the tablet space."
There may be the drive, but consumer fatigue could become an issue.
"As you get into larger form factors, you get into some ergonomic issues in terms of how easy it is to hold for a long period of time, whether you want to manipulate it, whether you really want to use it that way," said Alexander.
Related: Is Surface Pro 3 The Most Groundbreaking Tablet Yet?
"The bigger issue is the use case that you're making for, if I'm going to have this -- and yes, it's larger, but what am I doing with it that's making it more powerful than what I had before? How am I using the information on the screen?"
Alexander said that she has seen some vendors make that argument more effectively than others.
"If you look at a vendor like Apple, it wouldn't introduce a product like that unless it had a very clear use case for why you have a product like that," she said. "Which isn't to say they wouldn't do it. I'm just saying that the use case would be a major part of that introduction."
When The Form Factor Matters Most
The medical community eagerly adopted the iPhone. Alexander said that doctors liked being able to carry it with them to take photos and keep track of appointments, among other things.
Doctors also liked the iPad, but it was too big for everyday use.
"Boy, you saw the iPad Mini come out and the doctors were all over it because they could just slip it into a lab coat pocket," said Alexander. "It made it really easy to go with that. Portability was the argument.
"Certainly, Steve Jobs, when he first introduced the iPad, made the case that you wouldn't go smaller than 9.7 inches, so Apple had a little bit of dancing to do when they came out with the Mini. But clearly the market was moving in that direction because you've seen that strong shift to the seven-inch [format] in the Android market. That was a case of Apple adjusting after the fact to the reality that there was an ample opportunity there for a seven-inch product."
However, as smartphones (and specifically phablets) get bigger and bigger, Alexander said that those devices will put the squeeze on seven-inch tablets.
"That is part of what's going to drive the media tablets and the PC tablets into larger sizes, to create a clear delineation between the products and the advantages of having a larger screen," she said.
Disclosure: At the time of this writing, Louis Bedigian had no position in the equities mentioned in this report.
Posted-In: Apple comments IHS iPad iPad Mini Microsoft Rhoda AlexanderTech Best of Benzinga
View Comments and Join the Discussion!