Uncovering The Bones Of Science: Google Honors Paleontologist Mary Anning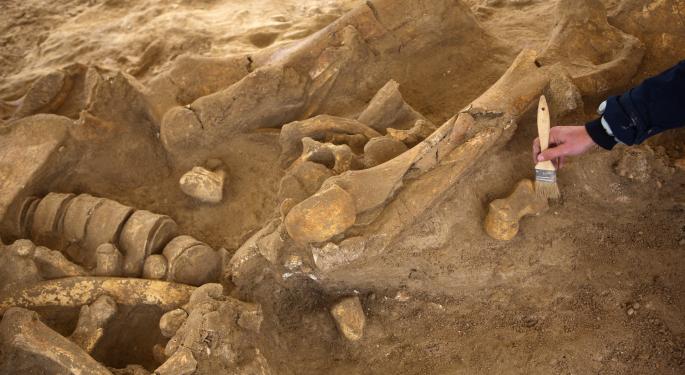 On May 21, 2014, Google (NASDAQ: GOOG) (NASDAQ: GOOGL) celebrates the 215th anniversary of British fossil collector and paleontologist Mary Anning's birthday with its doodle.
Mary Anning is best known for her prominent discoveries and work in shaping the field of the science of paleontology.
History of Mary Anning's Life
Anning was born on May 21, 1799 in Lyme Regis, Dorset, England. Even with a limited education at a Congregational Sunday school, she was fascinated with James Wheaton's essays on creationism and the new science of geology.
A popular seaside resort town, the Lyme Regis attracted tourists with its seaside beauty. Locals, including Anning's parents, took their children fossil-hunting to collect and sell the fossils to visitors for extra income.
The Blue Lias cliffs at Lyme Regis, made up of layers of limestone and shale, was a great place to find new fossils- albeit dangerous due to landslides.
See also: A Marvel Of Online Marketing - Google's Doodles
When Anning was 12, her brother Joseph found the four foot head of an icthyosaurus platoydon, now known as the Temnodontosaurus platyodon. She found the rest of the 17-foot skeleton a few months after between the cliffs at Lyme Regis and Charmouth.
She found numerous other almost complete icthyosaurus skeletons and fossils between 1815 and 1819.
In the winter of 1820-1821, Anning discovered the partial skeleton of the marine reptile, Plesiosaurus dolichodeirus. She discovered a more complete skeleton of the species in 1823.
Anning made other significant finds of Dapedium politum, a ray-finned fish and the partial skeleton of a pterosaur.
Anning's findings gave the scientific community essential pieces to prove extinction, at a time when there was little proof to contest the Church's teachings. Her discoveries helped connect the pieces for a better understanding of the history of Earth for a complete skeleton for prehistoric life.
Anning passed away at the age of 47 from breast cancer. On the 200th anniversary of her birth, an international meeting of historians and palaeontologists was held in Lyme Regis.
The Natural History Museum added her as one of the gallery characters in 2005.
Posted-In: Google Doodle Mary AnningTop Stories Best of Benzinga
View Comments and Join the Discussion!