Report: California Drought 'A Severe Blow' To State Agriculture; Impact Felt Nationally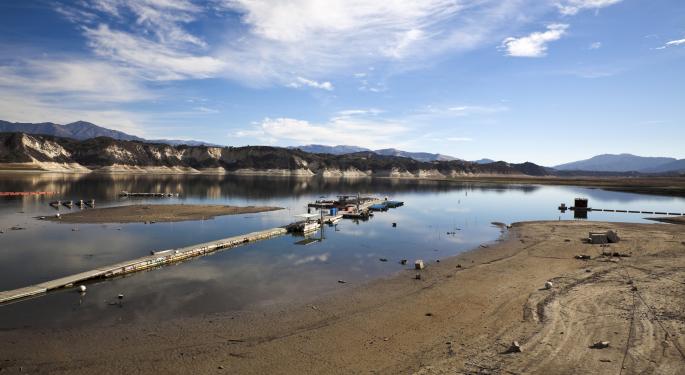 California's severe and ongoing drought is expected to deal "a severe blow" to the state's irrigated agriculture and farm communities this year – the economic impact of which is expected to be felt across the nation.
A new study by the University of California Davis' Center for Watershed Sciences estimates that irrigation operations in the state's Central Valley – a region billed as the richest food-producing region on earth – will receive around two-thirds of its normal water deliveries this year.
Related: Fitch: Extreme California Drought Not Likely to Pressure Ratings
These reductions are expected to cost California's essential agriculture industry around $1.7 billion – with over 14,500 workers losing their jobs.
The study, done at the request of California's Department of Food and Agriculture (CDFA), comes as the Golden State scrambles to conserve water – and four months after Governor Jerry Brown declared a drought state of emergency.
"These estimates will help the state better understand the economic impacts of the drought and target its drought relief," CDFA Secretary Karen Ross said in a press statement. "The research confirms where emergency drought assistance will be needed most, and efforts are already underway."
The state is also expected to spend an additional $450 million this year for groundwater pumping.
"Without access to groundwater, this year's drought would be truly devastating to farms and cities throughout California," Jay Lund, the study's co-author and a UC Davis professor of civil and environmental engineering, said in a press statement.
California produces nearly half of all U.S.-grown fruits, nuts and vegetables. And several important crops, including almonds, artichokes, olives, pistachios, raisins and walnuts, are grown exclusively in the state.
California is also a major beef and dairy producer, and the drought has already had an effect on prices nationally at the local meat counter. If California were a nation, rather than a state, it would already have one of the world's largest economies – and financially it should be able to ride out the historic dry conditions.
"Overall, the state economy will be much less affected by the drought," Lund said in an interview with the Los Angeles Times. "That's largely because California is not an agricultural economy. Back in the Dust Bowl days of the 1930s, agriculture accounted for about 30 percent of the jobs in California. Today, it's less than five percent."
View Comments and Join the Discussion!
Posted-In: agriculture California California drought drought conditions food crops Jerry Brown Karen Ross. Jay LundEconomics Best of Benzinga