What's Next With Net Neutrality?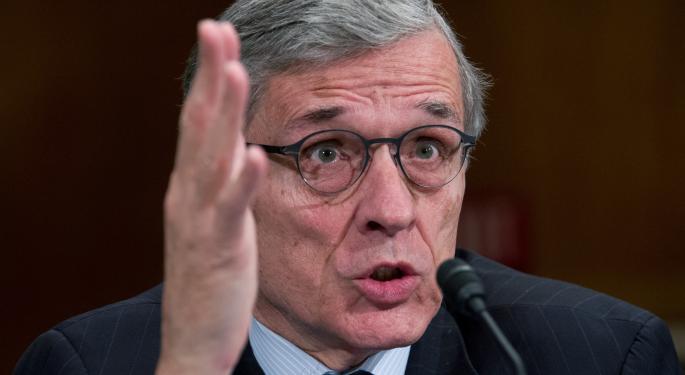 The Federal Communications Commission voted Thursday to release a Notice of Proposed Rule Making (NPRM) in which the agency proposed new rules regarding net neutrality. Now what?
For starters, anyone who wants to can read the 99-page NPRM, which is available here. In it, the FCC and chairman Tom Wheeler would ban Internet providers such as Comcast (NASDAQ: CMCSA) from blocking (or slowing down) access to websites, but would let those same providers charge companies a fee for faster, more reliable delivery of their content to end-users.
Related: FCC Chairman Set To Revise Proposed Net Neutrality Rules
Over the next 120 days, the public would not only have the right to comment – chairman Wheeler said he hoped they would. According toPC World, Wheeler said, "We want this kind of discussion. We want this kind of debate. It is healthy, it is good, it produces good results."
The 120-day comment period is broken down into two segments. The first 60 days is for initial comment and the final 60-day period is, essentially, for comments on the comments.
Anonymous comments are allowed but those that include a name would likely be taken more seriously, PC World said.
The comment period is important for several reasons. The NPRM, for example, seeks comment on whether the FCC should ban pay-for-priority altogether.
Chairman Wheeler said that it was, "unacceptable" for broadband providers to be gatekeepers of Web content.
Squaring that statement with the agreement between Netflix (NASDAQ: NFLX) and Comcast to give Netflix faster speeds on Comcast's network has been problematic for those who saw it as a net neutrality issue. Wheeler, however, said the agreement was a "peering arrangement" not covered by or part of the net neutrality debate.
Net neutrality advocates want broadband declared a utility, thereby placing it fully under FCC regulation. Wheeler has said he believes the best way to achieve net neutrality is by following the guidelines of the U.S. Court of Appeals for D.C. that said the agency should pass new net neutrality rules without reclassification of broadband.
However, he did say he would encourage full and open debate on that question.
Perhaps most importantly, Thursday's vote did not establish new rules. It was a proposal, prior to public comments, which would eventually lead to new rules.
FCC officials said they hoped to have new rules in place by the end of the year. That would give the agency from the end of the comment period in mid-September until the end of December or about three and a half months – not counting holidays to reach a final decision.
At the time of this writing, Jim Probasco had no position in any mentioned securities.
View Comments and Join the Discussion!
Posted-In: Comcast Federal Communications Commission Netflix Tom WheelerEvents Media Best of Benzinga