General Motors And Toyota: History Repeating Itself?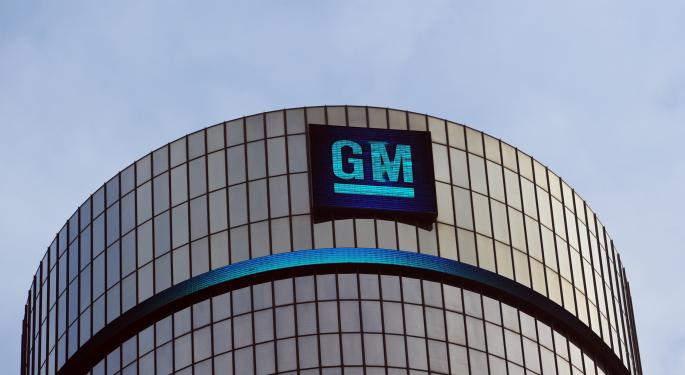 Shares of General Motors (NYSE: GM) have traded down as much as 3.28 percent following the company's announcement of five additional recalls.
With investors selling shares and the public looking for General Motors' CEO Mary Barra's next move, Benzinga looks at quantifying past history to see the probable future for the Michigan automaker.
In seeking an accurate comparison, it is startling to see the similarities with Toyota's (NYSE: TM) 2009 through 2013 recalls.
History Tends to Repeat
On November 2, 2009, Toyota recalled 3.8 million vehicles as floor mats trapped accelerator pedals. Although only the beginning of Toyota's trouble, shares saw no significant effect from the recall. Over a month later, the Japanese automaker added 400,000 more vehicles to the list following a car collision with four fatalities. The stock was down over 2.5 percent before regaining share value by early 2010.
Related: Toyota vs. General Motors - Which Would You Rather: Recall Edition
On February 14, 2014, General Motors recalled 1.6 million vehicles due to an ignition switch recall. Similar to Toyota, shares were relatively quiet following the news. When GM added 971,000 cars to their list of ignition switch recalls, the stock fell over 5.4 percent reeling from the news, in addition to an overall depressed market.
Management Attempts to Appease Investors & Public
From February to April 2010, Toyota announced additional recalls of Camrys due to potential brake problems, defective front propeller shift in Tacoma trucks, and corrosion of spare-tire carriers in Sienna minivans. Shares of Toyota hit $73.35, a low shareholders had not seen in almost a year. The common stock lagged over the next year and management decided to make changes.
Toyota appointed Moritaka Yoshida as the Chief Safety Technology Officer in March 2011.
Toyota's common stock recouped its losses in 2012 and even saw some gains. In October 2012, the company recalled 7.43 million vehicles worldwide due to power window problem that poses a fire risk. Shares fell to the year's low of around $74.67 before trending higher once more. A 2.77 million Prius recall had no effect on the common stock in November, with shareholders seeing gains of over 32.5 percent for the 2012 year.
The Japanese automaker's stock reached numbers in 2013 shareholders hadn't seen since 2007. Even amidst another recall of 803,000 vehicles in October, shares gained more than 25 percent in 2013.
Live And Learn
Learning from Toyota's hits and misses, General Motors took an early and aggressive stance to its 2014 recalls. Admitting fault, Mary Barra took responsibility for the recalls and apologized for the long timetable it took to address the ignition switch issue. Unwilling to further disappoint board members and investors, the company initiated an internal committee to handle the recalls and Barra announced that Jeff Boyer would take on the newly-created role of Global Safety Executive on March 18, 2014.
In April, General Motors assigned 35 product investigators to look into any issues. Barra and investors seemed unfazed by advocate letters reporting that GM chose a shorter spring in 2001 to save money - a deadly mistake with 60 putative class actions suits filed in the U.S. and Canada. At the end of the month, Barra reported that the company "has not experienced meaningful impact on US sales from ignition switch recall."
Related: Ford vs. General Motors - Who's In The Driver Seat?
Despite optimism and meaningful work from GM's management, shares took a dive to $31.93 on April 11. Ontario's Finance Minister Charles Sousa announced that he is looking to sell his General Motor's stake over the next year and House Energy and Commerce chairman Fred Upton said that GM ignition switch documents show "failure within the system."
In May, CNBC reported that the investigator of the General Motors ignition problem, Jim Fredrico, will step down. With shares continuing to rebound following April's low, the stock was resilient to the May 6 recall of 56,214 2007-2008 Saturn Auras due to cable shift problems. Shareholders felt a 2.5 percent tug on a small recall of 8,590 Buick and Chevrolet vehicles from to brake defects. Even with the back-to-back recall, the stock recouped the losses.
Can GM Recover?
Shares of General Motors have fallen as much as 3.28 percent following Thursday's news of five additional recalls. Looking towards an uncertain future, General Motors has taken the necessary steps in minimizing losses due to the recalls.
With quality finally taking precedence and General Motor's "Speak up for Safety" program, shares could see a 14 percent upside contingent on no more "bad news."
It is important to note that shares of Toyota took a 2.29 percent hit following its $1.2 billion settlement to end the U.S. probe with Toyota over disclosure of safety problems. Given the comparison with Toyota and taking inflation and news sensitivity of recent recalls into consideration, General Motors could feel a single-digit hit pending on the company's resolution with North American lawsuits.
Shares of GM closed Thursday at $34.36, down 1.66 percent.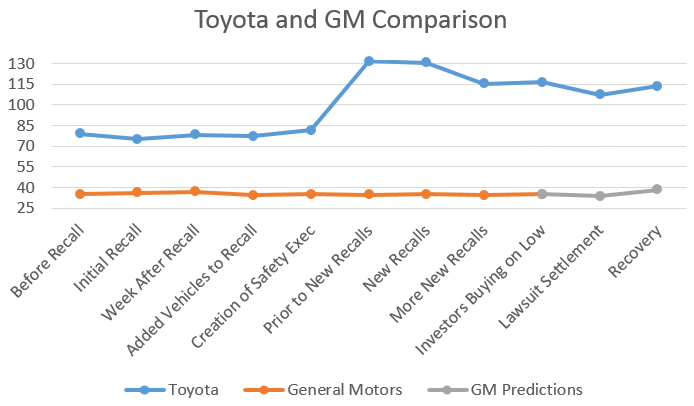 View Comments and Join the Discussion!
Posted-In: Mary Barra Toyota vehicle recallsNews Legal Management Events Global Best of Benzinga