How Much Will Apple's Retina MacBook Air Cost?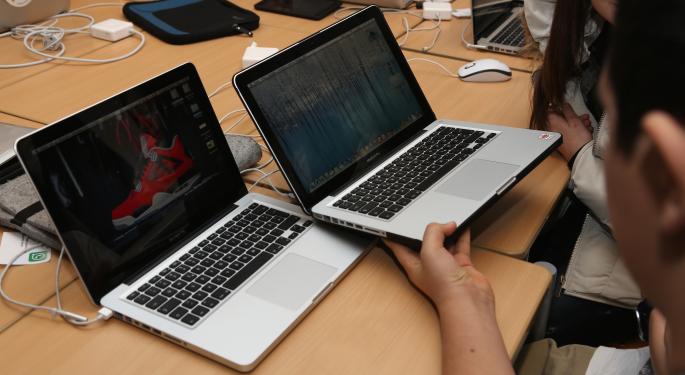 Apple (NASDAQ: AAPL) recently upgraded its MacBook Air line of computers, but instead of adding a Retina Display, the company knocked $100 off the price.
This might have been good news to cost-conscious consumers who wanted a new Mac, but it likely disappointed those who were hoping for a more robust upgrade -- most notably a Retina Display.
The 13-inch and 15-inch MacBook Pro notebooks are the only Macs that feature Apple's high-resolution display, which originally debuted with the iPhone 4. Both the iMac and MacBook Air have been rumored to receive a Retina Display for nearly two years. But the new display isn't cheap -- and the bigger it gets, the more expensive it becomes.
Related: Did Apple Cut The MacBook Air's Price To Prevent A Sales Decline?
Apple initially charged $1,699 for the MacBook Pro with Retina Display. That was $500 more than the previous model, which was bulkier and did not contain a solid state drive. Apple quickly dropped the price and now sells the Retina MacBook Pro for $1,299.
In 2012, Global Equities Research analyst Trip Chowdhry estimated that a 50-inch Retina Display would cost upwards of $25,000.
"I think if they put a Retina Display [in the TV] and the main screen size is [at least] 50 inches, I think the price point of that device will go for more than $25,000," Chowdhry told Benzinga.
At the time, some Apple fans questioned Chowdhry's estimate. But his number was all but confirmed when Sony and other TV manufacturers introduced their first Ultra HD (4K) TV sets. Sony's 84-inch model retailed for $24,999 when it was released in 2013.
Given Apple's premium pricing structure (and the likelihood that a Retina TV could offer a higher resolution than a 4K set), it's not hard to imagine how Chowdhry arrived at his $25,000 price point.
This would explain why the company has saved the Retina Display for select products, but what about the MacBook Air? Apple is rumored to release a Retina model later this year -- possibly with a 12-inch display. If Apple retains the existing form factor, how much more would the company have to spend?
"[A] Retina Display for the 13.3-inch MBA format would cost around $40 to $50 more than the current configuration (materials costs only)," Andrew Rassweiler, Senior Director of Cost Benchmarking Services for IHS (NYSE: IHS), told Benzinga. "That would theoretically mean something like $100+ more at retail for the 13.3-inch format."
The 13-inch model currently retails for $999, so that would bring the price up to $1,099.
What do you think, investors -- would the extra $100 be worth a noticeable boost in display resolution?
Disclosure: At the time of this writing, Louis Bedigian had no position in the equities mentioned in this report.
View Comments and Join the Discussion!
Posted-In: Andrew Rassweiler Apple TV comments Global Equities Research IHSNews Rumors Tech Best of Benzinga