Is Tesla's Elon Musk Channeling Henry Ford?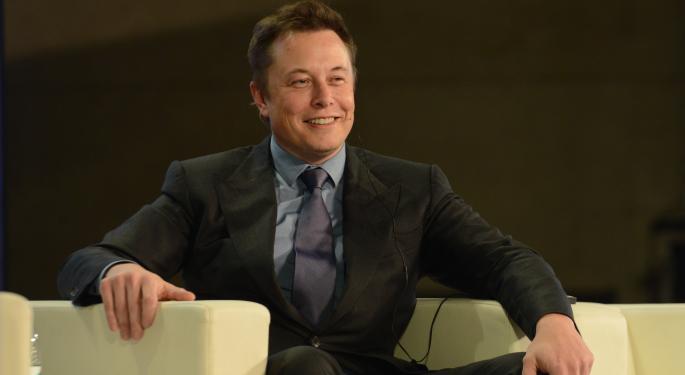 Tesla (NASDAQ: TSLA) CEO Elon Musk wants to build an environmentally friendly $35,000 electric car for the masses at the astonishing rate of 500,000 per year. To accomplish that, it appears Musk might "pull a Henry Ford."
Musk's highly-publicized Gigafactory, according to Slate, is designed to build state-of-the-art lithium ion batteries to power Musk's $35,000 Model E. The factory would bring in suppliers and other companies to produce all of the battery components at one facility.
Referring to the Gigafactory, Musk said, "It's sort of like an industrial park under one roof. Tesla's producing the modules—Tesla's sort of the overall landlord."
Related: Tesla Taking 'Two-Fer' Approach To Gigafactory
This model, Slate said, was reminiscent of Henry Ford's famous River Rouge complex, which integrated the entire automotive production supply chain in one location.
John Voelcker, editor of Green Car Reports, recalled a famous quote about River Rouge: "Iron ore would go in one end and a Model T would come out the other."
So it is set to be with Tesla's Gigafactory, according to Slate, where "Nickel, cobalt, and lithium will go in one end, and finished battery packs will come out the other."
All this effort and resources are in hopes of shaving 30 percent off the cost of producing those all-important lithium ion batteries. The company strives to produce 500,000 moderately priced electric cars a year by 2020.
With regard to partners, so far Tesla has signed up Panasonic via a letter of intent. Panasonic said it would make its battery cells at the Gigafactory. Tesla has also approached mining companies about obtaining discounts on raw materials such as nickel and cobalt.
In a pure River Rouge scenario, the entire automobile would be assembled in the Gigafactory. Such would not be the case with Tesla, which has said it would ship the finished batteries to Fremont, California, where the actual cars would still be assembled.
In another "not-so-Henry-Ford" moment, Musk and Tesla have decided that the Gigafactory, set to break ground in June, would actually start out as two factories – in two different states. The company hasn't said which two states out of Texas, Arizona, New Mexico, Nevada or even California would be chosen.
Presumably, whichever factory building site had the fewest setbacks or slowdowns would be completed, with the other halted or perhaps more likely repurposed later.
At the time of this writing, Jim Probasco had no position in any mentioned securities.
Posted-In: Elon Musk Gigafactory Green Car Reports Henry Ford John Voelcker PanasonicEvents Media Best of Benzinga
View Comments and Join the Discussion!