$50 Billion AT&T DirecTV Merger Reportedly Two Weeks Away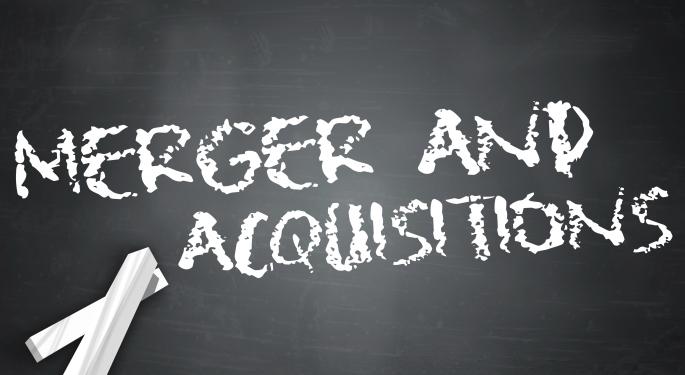 As if Federal regulators didn't have enough to mull over with Comcast's (NASDAQ: CMCSA) proposed acquisition of Time Warner Cable (NYSE: TWC), now comes word that AT&T (NYSE: T) is close to "sealing the deal" on a takeover of DirecTV (NASDAQ: DTV).
The AT&T/DirecTV merger would reportedly cost AT&T $50 billion in cash and stock. That would be a premium on DirecTV's closing share price Monday. Sources told The Wall Street Journal an agreement could be reached as soon as two weeks – possibly less.
DirecTV shares, which closed down $0.85 or just under one percent Monday at $87.16, were up in pre-market trading more than three percent at $90.50. AT&T and DirecTV were discussing a potential stock acquisition price in the low to mid-nineties per share, according to The Wall Street Journal sources.
Related: Brean Capital Believes Acquisition Of DirecTV By AT&T Is Highly Likely
If the deal went through as expected, AT&T would probably pay for it mainly with stock. Using stock would limit borrowing and protect AT&T's credit rating. On the other hand, the more stock the company issues, the more it would have to pay out in dividends.
AT&T would likely use the acquisition of DirecTV to grow its video presence, while targeting increased cash flow to build out AT&T's broadband Internet structure.
The addition of satellite TV would also allow AT&T to free up bandwidth on Internet connections to subscribers.
A merger would solve two related problems for DirecTV. Subscriber growth in satellite has slowed greatly. The addition of AT&T's broadband would provide a boost to potential subscriber interest in DirecTV.
In addition, AT&T would bring price-competitive Internet speeds to DirecTV, something current technology doesn't allow for satellite.
It was widely believed that should regulators approve the Comcast merger with Time Warner Cable, there would be little reason not to approve a merger between AT&T and DirecTV. That would reduce one major concern for both companies.
All this could leave Dish Network (NASDAQ: DISH) out in the cold. Dish Chairman Charlie Ergen said he can't compete with AT&T for DirecTV, virtually eliminating a potential merger of the two satellite companies. Besides, the two tried to merge a decade ago and the deal was stopped by regulators.
Sources who spoke with Bloomberg said that based on talks so far, following a merger DirecTV management would continue to run the company as a subsidiary of AT&T. The same sources said the price could go as high as $100 a share by the time the deal was concluded.
At the time of this writing, Jim Probasco had no position in any mentioned securities.
Posted-In: AT&T Charlie Ergen Comcast DIRECTVNews Rumors Events Media Best of Benzinga
View Comments and Join the Discussion!