Benzinga's M&A Chatter for Monday May 12, 2014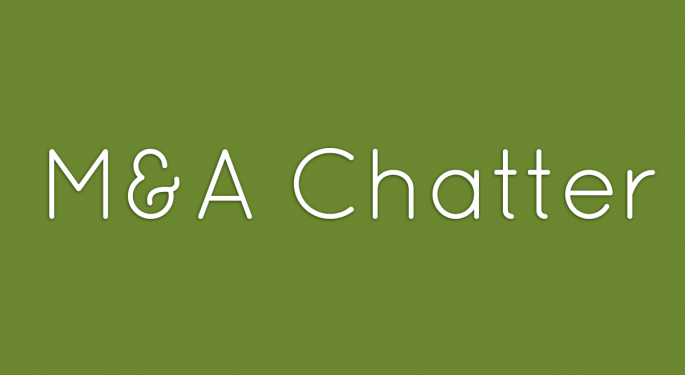 The following are the M&A deals, rumors and chatter circulating on Wall Street for Monday May 12, 2014:
AT&T Could Announce Deal within 2 Weeks to Acquire DirecTV for Approximately $100/Share
The Rumor:
Shares of DirecTV (NASDAQ: DTV) surged higher just before the close Monday and again after-hours on reports from wire services about a pending deal with AT&T (NYSE: T). Dow Jones reported just prior to the closing bell that a deal for AT&T to acquire DirecTV could be announced in the next two weeks. Bloomberg later reported the shares of DirecTV could carry a $100 per share price tag.
A deal between the two companies has been rumored since first reported by Dow Jones on May 1. DirecTV shares closed Monday at $87.16, and traded as high as $95.00 after-hours.
Vantiv to Acquire Mercury Payment Systems for $1.65B
The Deal:
Vantiv (NASDAQ: VNTV) announced Monday an agreement to acquire payment technology and service company, Mercury Payment Systems, for $1.65 billion. In view of the transaction, Mercury will withdraw its IPO filing.
The deal is expected to close in Q2 2014.
Vantiv closed Monday at $29.82, a gain of 3%.
Telik and MabVax Therapeutics to Merge in All-Stock Transaction
The Deal:
Telik (NASDAQ: TELK) and MabVax Therapeutics have agreed to merge in an all-stock transaction, under which, MabVax and Telik will be combined into a publicly traded company focused on the development of proprietary immunotherapy-based products to diagnose and treat cancer. Upon closing, Telik will be re-named MabVax Therapeutics Holdings.
Telik closed Monday at $1.25, a loss of 4.5%.
Allergan Board Rejects Valeant Proposal
The Rejection:
Allergan (NYSE: AGN) announced Monday that its Board of Directors has unanimously rejected the unsolicited proposal from Valeant Pharmaceuticals (NYSE: VRX) announced on April 22, 2014. Allergan's Board concluded that the Proposal, $48.30/share in cash, plus 0.83 shares of Valeant, substantially undervalues Allergan, creates significant risks and uncertainties for the stockholders of Allergan, and is not in the best interests of the Company and its stockholders.
Valeant said Monday, it remains committed to pursuing a deal with Allergan.
Allergan closed Monday at $159.72, a loss of 1%, while Valeant shares closed at $130.16, a loss of $1.01.
View Comments and Join the Discussion!