Google Celebrates Dorothy Hodgkin & Her Contributions To Chemistry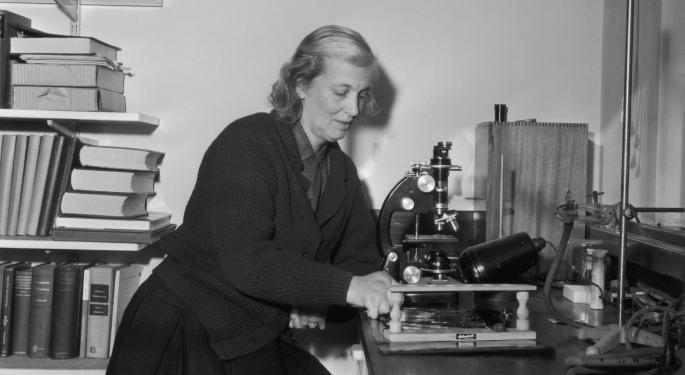 Monday's Google Doodle honors the life of Dorothy Mary Hodgkin who would've celebrated her 104th birthday today, May 12, 2014.
Dorothy's Life
Dorothy was born on May 12, 1910 in Cairo, Egypt to archaeologists John and Grace Crowfoot. Her love for science begun at an early age and family helped nurture her eager mind. By the age of ten, Dorothy became fascinated by chemistry and crystals. During a visit to her parents in the Sudan, family friend Dr. A.F. Joseph gave Dorothy some chemicals and assisted her in analyzing ilmenite.
She spent most of her childhood with her sisters in England and attended the Sir John Leman Grammar School in Beccles from 1921 to 1928. At the school, Dorothy and another girl, Norah Pusey, were allowed to join the boys in chemistry under the instruction of Miss Deeley. Towards the end of her education at Sir John Leman Grammar School, she had decided to pursue chemistry and possibly biochemistry at university.
Dorothy studied chemistry at the University of Oxford Somerville College from 1928 to 1932. During her first year at the College, she used her background of archaeology and chemistry to analyze glass tesserae from Jerash. Dorothy attended a special course in crystallography and decided, with advice from her tutor, F.M. Brewer, to research X-ray crystallography.
She went to the University of Cambridge to study for a Doctor of Philosophy and work with J.D. Bernal. Dorothy heard a lecture by Bernal at Oxford on metals and was eager to work with him as he turned his focus towards sterols.
She returned to Somerville College in 1934 and remained there for most of her working life as an Official Fellow and Tutor in Natural Science. Her main responsibilities included teaching chemistry for the women's colleges. One of her students included Margaret Roberts, the future Prime Minister Margaret Thatcher.
Dorothy Hodgkin passed away on July 29, 1994 from a cardiac stroke.
Significant Discoveries and Contributions
In 1945, Dorothy published the first structure of a steroid, cholesteryl iodide, while working with C.H. Carlisle. That same year, Dorothy and her colleagues solved the structure of penicillin by demonstrating that it contains a beta-lactam ring. The work was not published until four years later.
Dorothy's incredible and in-depth work on insulin lasted over 35 years. She began her work in 1934 when Robert Robinson gave her a small sample of crystalline insulin. She and other chemists spent years trying to improve the technique of x-ray crystallization to find the structure of insulin. When the structure was finally discovered in 1969, Dorothy continued to research insulin and gave talks across the world discussing the importance of insulin for diabetes.
Awards
Dorothy Hodgkin received the Nobel Prize in chemistry in 1964. She was the second women to receive the Order of Merit in 1965 and the first women to be awarded the Copley Medal. Dorothy was a Fellow of the Royal Society and a Chancellor or Bristol University from 1970 to 1988. She won the Lenin Peace Prize and received an Honorary Doctor of Science Degree from the University of Bath.
Companies Using Hodgkin's Research Today
According to PharmaTech, the Top Insulin Companies in 2014 include Pacific BioLabs, Crystal Chem, Orban Biotech, LLC, Novo Nordisk (NYSE: NVO), Cisbio Bioassays, SemBio Sys. Genetics, Ceres Chemical Co., Eli Lilly & Company (NYSE: LLY), Signum Biosciences, GlaxoSmithKline (NYSE: GSK), Proteome Sciences, Centerchem Inc, and Johnson & Johnson (NYSE: JNJ).
View Comments and Join the Discussion!
Posted-In: Dorothy Hodgkin Google DoodleTopics Media General Best of Benzinga