IPO Lookout: Signs Of Life In IPO Land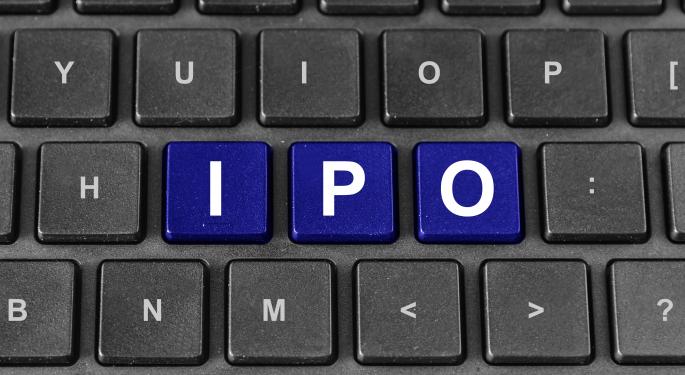 After a lull in initial public offerings (IPOs), the market is showing signs of revitalization. For the week ending Friday May 9, there were seven IPOs for US markets, with this week bringing seven more.
Here's a look at this week's offerings, and a recap of last week's action.
IPOs for the week of May 12
Invest in IPO shares before the stock hits the market with ClickIPO. Check it out here
ETRE REIT (NASDAQ: ECAV): 3.7 million shares expected in the $14 to $16 range through Sandler O'Neill and Partners.
Nano Vibronix (NASDAQ: NVBX): 1.3 million shares expected between $5 and $7 through Chardan Capital and Maxim.
Zendesk (NYSE: ZEN): 11.1 million shares expected between $8 and $10 through Goldman Sachs, Morgan Stanley, and Credit Suisse.
Jumei International (NYSE: JMEI): 9.5 million ADSs expect to price between $19.50 and $21.50 through Goldman Sachs, Credit Suisse, and JPMorgan Chase.
TrueCar (NASDAQ: TRUE): 7.8 million shares are expected to price between $12 and $14 through Goldman Sachs, JPMorgan Chase, and RBC Capital Markets.
SD Company (NYSE: SDPI): 5 million shares are expected to price between $5 and $7 through Roth Capital Partners.
ServisFirst (NASDAQ: SFBS): 625 thousand shares are expected to price between $91 and $93 through Sandler O'Neill and Partners.
Related: PBF Logisitics Shows Strength In IPO
Recapping Last Week's IPOs
GasLog Partners (NYSE: GLOP)
K2M Group Holdings (NASDAQ: KTWO)
Dorian LPG (NYSE: LPG)
Cheetah Mobile (NYSE: CMCM)
PBF Logistics (NYSE: PBFX)
Alcentra Capital Corp. (NASDAQ: ABDC)
Tuniu Corp. (NASDAQ: TOUR)
Last week's most interesting IPOs involve the two shipping companies, GasLog Partners and Dorian LPG, and Chinese app-maker, Cheetah Mobile.
GasLog Partners
GasLog Partners operates liquefied natural gas carriers, typically under long term contracts. Currently, the company has a fleet of eighteen wholly-owned carriers. Eleven of the ships are in operation with an additional seven to be delivered between 2014 and 2016. The company is based in Monaco.
The company offered 8.4 million shares for $21 per share, representing 85 percent of the total shares. The stock opened Wednesday for $25.50 per share, adding over $1 on its first day of trading. GasLog currently trades at $26.46, a 26 percent gain to IPO investors. The sole bookrunner for the offering is Citigroup.
Offering proceeds are mainly slated to prepay debt obligations and for general partnership purposes.
Dorian LPG
Dorian LPG operates Very Large Gas Carriers, or VLGCs. It currently has three in open sea operations. The company is growing rapidly, building nineteen eco-friendly Very Large Gas Carriers due for delivery in 2014, 2015, and 2016. Dorian is incorporated in the Republic of the Marshall Islands.
In its IPO, the company offered 7.1 million shares out of 57 million total shares and priced them at $19 per share. The stock opened Thursday for $19 and traded lower during the session. Friday, the stock bounced back to close at its opening price of $19. Bookrunners for the IPO are Clarkson Capital Markets, JP Morgan Chase, UBS, and Wells Fargo.
The company is raising funds to assist in financing the nineteen VLGC's being built in two Korean shipyards.
Cheetah Mobile
Chinese app-maker Cheetah Mobile opened for trading Thursday. While American consumers are just becoming familiar with Chinese IPOs such as Baidu, Tencent, and Alibaba, it's unlikely many have heard about Cheetah Mobile. Cheetah, a spinoff of Kingsoft, has developed names that consumers have heard of though, including apps like Battery Doctor and Clean Master.
According to Cheetah CEO Sheng Fu, the company is not just looking to raise money for acquisitions, but is looking to increase awareness of the firm's global brand and to be better known to consumers.
Cheetah certainly created attention, raising $168 million in its 12 million ADS (American Depository Share) IPO. Shares popped briefly on day one, opening at $15.25 and racing to a high of $16.43 before crumbling to its current price of $14.26. Enthusiasm is on the decline as volume continues to slow and the price of the stock falters. Cheetah IPO underwriters are Morgan Stanley and JPMorgan Chase.
Disclosure: At the time of this writing, the author holds no positions in the mentioned securities.
Posted-In: Alcentra Capital Cheetah Moile Dorian LPG ETRE REIT GasLog Partners IPONews IPOs Best of Benzinga
View Comments and Join the Discussion!