Tesla Taking 'Two-Fer' Approach To Gigafactory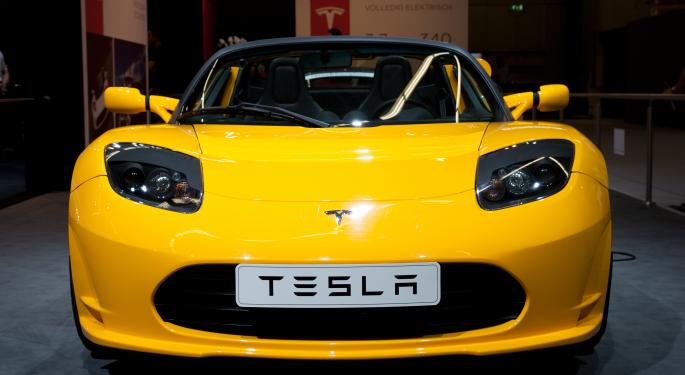 Tesla (NASDAQ: TSLA) was taking no chances. The company said Thursday it planned to break ground in, not one, but two states ahead of its $5 billion Gigafactory, which will employ 6,500 lucky residents of one of those two states.
According to Forbes, the reasoning was simple for Tesla and CEO Elon Musk – insurance. Breaking ground in two locations provides the company with an insurance policy against unforeseen problems at either one of the sites.
That's how important this factory was to Tesla's future. By 2020, Tesla's Gigafactory would be responsible for churning out 500,000 lithium-ion batteries a year.
For perspective, that's more than the total number of lithium-ion batteries produced by all automotive suppliers in the entire world in 2013.
Under Tesla's "two-state" solution, construction of two factories would begin, almost simultaneously. Eventually one factory – and one state – would be chosen and that project completed.
Related: Elon Musk Wants Tesla Electric Truck to Compete with Ford F150
Four states, according to Tesla, were in the running - Arizona, Nevada, New Mexico and Texas. California, initially seen as difficult due to its complicated environmental permit requirements, said it wanted to be taken into consideration as well. That, according to most observers, would be a long shot – especially since the other states have had plenty of time to prepare their offers.
Initial selection of a state and groundbreaking would begin in June, less than a month away, according to Musk, who spoke with analysts Wednesday. He said the second site would be selected soon thereafter.
In theory at least, if one site (state) faltered, fell behind or had unforeseen problems, the other site would be declared the winner. If neither had problems, it was not known how long Tesla would let the competition continue – especially since the company would be pumping money into construction of one factory that would never be completed.
Forbes said it generally takes about a year to build a manufacturing plant, at least to the point where a building exists that can hold equipment. After that, many more months would be required to install machinery and run tests.
Then would come the hard part – producing lithium-ion batteries that were a minimum of 30 percent less expensive per kilowatt-hour than existing batteries. The plant – the one eventually built to completion – was expected to cost $2 billion of the $5 billion overall investment Tesla would make.
The success (or failure) of Tesla's approach to building its Gigafactory might determine how future high-risk factories are designed and projects implemented at other companies – not just at Tesla.
While the method was clearly unorthodox and costly, Tesla and Musk's calculus must have been that failure was not an option – hence the insurance policy.
At the time of this writing, Jim Probasco had no position in any mentioned securities.
Posted-In: Elon Musk Forbes Gigafactory TeslaEvents Top Stories Best of Benzinga
View Comments and Join the Discussion!