Transportation Department Issues Safety Advisory Regarding Bakken Crude By Rail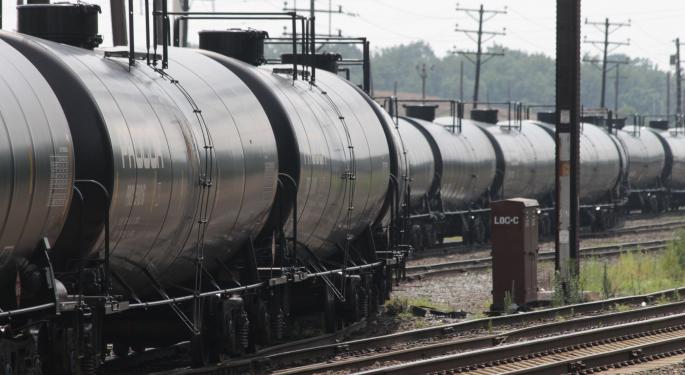 The U.S. Transportation Department on Wednesday issued a non-binding safety advisory saying railroad companies shipping crude oil from North Dakota should stop using older, less safe tanker cars.
The agency also issued an emergency order requiring railroads to notify state officials about the movement of trains carrying 35 or more carloads of Bakken crude.
Bakken crude originates in the Bakken shale deposits in North Dakota and is thought to be more flammable than other types of crude oil.
The advisory and emergency order followed a series of derailments, explosions and fires going back to last year, including one in Canada that killed 47 people.
In the emergency order the agency said, "These accidents have demonstrated the need for emergency action to address unsafe conditions or practices in the shipment of petroleum crude oil by rail."
Related: BNSF Honors 2013 Safety Employees of the Year
The advisory, which applied to more than 66,000 tanker cars, came in the form of a recommendation that shippers should use the sturdiest cars in their fleets when shipping crude extracted from North Dakota's Bakken shale deposits.
Senator Maria Cantwell of Washington criticized the advisory as too weak, according to The Wall Street Journal.
"Making it voluntary is not going far enough," Sen. Cantwell told Transportation Secretary Anthony Foxx at a Senate Commerce Committee hearing.
Currently 66,500, or 68 percent, of tank cars used to transport oil and other flammable liquids are older cars. Approximately 31,000 cars have been retrofitted and built to higher standards. The advisory called on companies to voluntarily replace the older cars with newer ones.
Sec. Foxx told Sen. Cantwell that the government was moving quickly to issue and adopt new rules.
According to the American Petroleum Institute, within the next year about 60 percent of railcars would be state-of-the-art, next generation cars.
Meanwhile, a spokesman for Warren Buffett's Berkshire Hathaway (NYSE: BRK-A) owned BNSF Railway, said it routinely provided information to state agencies about any hazardous materials it carries.
The spokesman added that BNSF "believes that promulgation of a federal tank-car standard will provide much needed certainty for shippers and improved safety and response time for all first responders."
In addition to the derailment in Quebec that resulted in 47 deaths, other crashes involving fires and explosions have occurred in Alabama, North Dakota and Virginia.
At the time of this writing, Jim Probasco had no position in any mentioned securities.
Posted-In: Bakken Berkshire Hathaway Department of Transportation Warren Buffett Wall Street JournalCommodities Events Media Best of Benzinga
View Comments and Join the Discussion!