Can A 'Superweekly' Alternative Compete With Detroit's Daily Papers?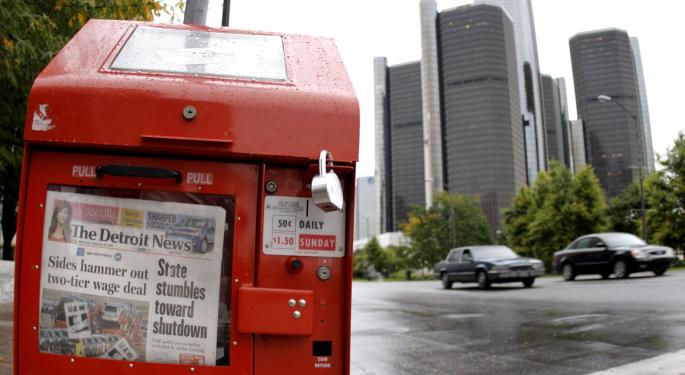 The biggest weekly magazines in Detroit have become one. Metro Times announced on Monday it has merged with Real Detroit Weekly. But can an audience increasingly relying on digital media continue to support a weekly print publication?
"We're excited to join forces with the Metro Times to create a 'superweekly' that will offer metro Detroiters more music, art, political, dining and nightlife coverage than previously possible," wrote John Badanjek, owner and publisher of Real Detroit Weekly.
Real Detroit , founded in 1999, had a wider distribution rate than the Metro Times, even though MT was founded in 1980. Despite Real Detroit's larger reach--it sold 65,000 weekly issues compared to the Metro Times's 50,000--the merged company will retain the Metro Times name. Both are issued free of charge and distributed at dozens of stands throughout Metro Detroit.
Metro Times recently finished being acquired by Euclid Media Group LLC, which bought MT and three of its sister alternative weeklies for under $10 million in December. Former owner Pennsylvania-based publisher Times-Shamrock Communications was shedding its non-daily nontraditional newspapers, according to Bill Shea of Crain's Detroit.
Related: 3 Ways Google Glass Could Change Journalism
The beefed up Metro Times will now attempt to reach a bigger audience - Crain's reported that the magazine will increase its circulation to over 65,000 issues, although it did not specify an exact amount. Each magazine has had very similar audiences (and advertisers), but a somewhat different content focus.
Real Detroit leans towards more music and nightlife. Metro Times features a broader range of stories.
With a growing millennial population in its downtown and midtown areas, should the major Detroit dailies start to watch out?
The Detroit Free Press and Detroit News, the daily newspapers in Detroit for over 140 years, cut back daily circulation in 2008 and have tried adjusting to the digital age like most daily newspapers over the last decade.
More Options...
"Both publications have been kind of caught in a 'perfect storm' of trouble," Steve Coon told Benzinga, "due to the city government struggles in Detroit, the city's population decline and the tremendous financial upheaval in the traditional media market." Coon worked for The Morning Sun in Mount Pleasant, Michigan, for 15 years - nine of which serving as managing editor.
Some prominent competition could spark a fire underneath the dailies.
"You run faster when someone's chasing you," Detroit News op-ed editor James Dickson told Benzinga. "The best media markets...offer multiple options. This is good for readers, writers and advertisers."
How Metro Times can provide that competition is fairly easy -- different writers, different topics. Dickson, perhaps echoing many in the journalism industry, says more is better.
"The stronger that team gets, the more it makes the daily papers take notice, the better," said Dickson, giving specific praise to current MT writers Ryan Felton and Drew Philip. "And the more people we have holding public officials to account, the better."
...More Readers?
How this can actually affect the Free Press and the News remains to be seen. As of 2011, the Free Press had 234,579 weekday and 639,350 Sunday editions in circulation - the 23rd-lowest rate of the major U.S. newspapers. John K. Hartman believes this is part of a generational shift.
"Fewer and fewer people under 50 read print newspapers and this was made worse in the Detroit market when the News and Free Press severely limited daily home delivery," Hartman told Benzinga.  "Print newspapers gain $1 in digital advertising for every $20 lost in print advertising, it has been said, so the situation just gets worse and worse" stated Hartman, who has been a Professor of Journalism at Central Michigan University for 30 years and has written two books about USA Today.
Metro Times as of 2007 had over 700,000 weekly readers.
All three papers have prominent digital websites with varying degrees of interaction. Detroit Free Press has a combined 201.5k fans on Facebook (NASDAQ: FB) and Twitter (NYSE: TWTR), while Detroit News has 131.5k; Metro Times comes in with 70.3k, however, that could potentially rise above 100k if MT absorbs any of Real Detroit Weekly's 42.4k fans.
Related: How One Entrepreneur Reuses Detroit's Devastated Homes
Mergers And Borrowers
The Free Press and The News themselves combined business operations in 1987 and moved into the same building in 1998. They maintain separate editorial staffs, however, and will move into a new building later this year. (The News' current headquarters has been in existence since 1917.)
Metro Times has had several locations before its current home in Ferndale, Michigan, a town stationed on the north end of the Detroit city border. With such close proximity, stories are bound to get run through the media ringer.
"You see it in New York all the time. A smaller publication will break a story, then eventually the Times will come through with the be-all, end-all report," said Dickson, who worked with the Digital First Media affiliates - A2 Journal and A2.com - in Ann Arbor, Michigan, before joining the News.
"Some stories, the small publications will own from start to finish. That's fine too," Dickson continued, "The more stories are being told in Detroit by professionals, the more we can shine a light on the power in Detroit and in Lansing, the better this media market will be."
Ways To Improve
Dickson noted one niche he believes Detroit desperately needs to fill: a systematic look at homicides. The city's homicide rate for 2013 was 47.5 homicides per 100,000 residents, based on the U.S. Census Bureau's 2012 population estimate of 701,475 residents. That's 10 times the 4.7 national average.
The city is usually among the most violent cities in the country, if not the most.
"Who is dying? Where? Who do they leave behind? If someone made it their mission to get every single one of those names in the paper, it would shine a bright light on the top issue holding Detroit back: That it's a city where 300 people meet their end at another person's hands every year," said Dickson. Coon offered a different view.
"Focusing on how the city can recover and rebuild is an issue that the Free Press, in particular its editorial pages, has focused on," said Coon, "and I think that has attracted a large audience and well-deserved acclaim, such as the recent Pulitzer Prize award for Stephen Henderson."
Hartman believes the dailies are in pretty good shape, but said the "real problem is a declining appetite on the part of the public to learn in detail what is going on in their home communities, state, nation and world.
"More and more people, especially under 50s, do not consider being well-informed about current events [news] important to their lives and increasingly pay attention to other things."
Posted-In: Bill Shea Detroit detroit news Detroit Press Press Digital First Media FacebookTop Stories Interview Best of Benzinga
View Comments and Join the Discussion!