Rough Seas Ahead For The Cruise Industry?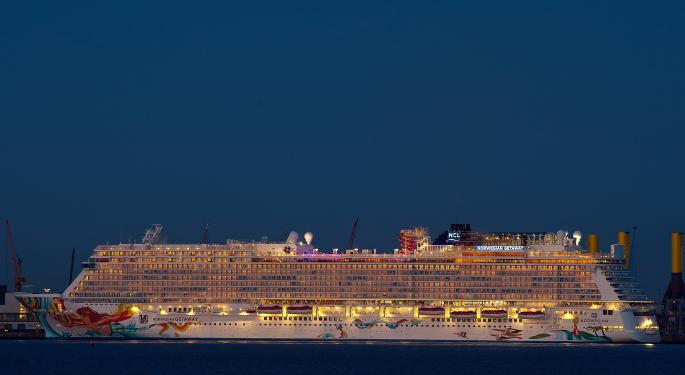 Does heading off on a sea cruise still hold the same allure for vacationers as it did in the past?
A series of recent incidents continue to give the multi-billion-dollar cruise industry a black eye.
The U.S. Centers for Disease Control and Prevention (CDC) reports there were at least eight outbreaks of gastrointestinal illness on board eight cruise ships during the first four months of this year alone, including the highly contagious Norovirus, compared with nine such incidents during all of 2013.
And then were mishaps like the Norwegian Cruise Line (NASDAQ: NCLH) vessel that was stranded in New York's Hudson River for several hours this past weekend, due to a mechanical breakdown.
That incident reportedly led to shoving matches, screaming and fights among frustrated passengers trying to disembark.
Related: It's Official: Mark Fields Will Replace 'The Man Who Saved Ford'
Data for the cruise industry remains strong. A 2014 forecast by Cruise Market Watch says the global cruise market is estimated to bring in $37.1 billion, a 2.3 percent rise from 2013, with the overall number of cruise passengers expected at 21.6 million, up three percent compared to last year.
What's more, six new cruise ships are expected to be added to the industry's fleet this year, with an additional passenger capacity of over 17,000.
But the industry is also battling a perception issue. A Harris Poll survey of over 2,000 adults, released last month, found 54 percent of Americans were less likely to take a cruise now than they were a year ago. And only 32 percent of those polled agreed that cruises are "worry-free."
"We've all heard the saying that a rising tide lifts all boats," Deana Percassi, vice president and public relations research consultant with Nielsen, which owns the Harris Poll, said in a press statement, "but the inverse also holds true. In a field as crowded as the cruise industry, bad press for a small handful of brands - or even a single one - can have negative repercussions for major players across the board."
For its part, the Cruise Lines International Association said the recent outbreaks of Norovirus and other gastrointestinal ailments is not affecting industry ticket sales.
"The Harris Poll does not reflect what CLIA is hearing," the group said in a statement quoted by the Los Angeles Times, "which is that bookings are solid and cruise ships are leaving full."
Meanwhile, Norwegian Cruise Line is reportedly offering a two-for-one deal – a promotion that lets would-be vacationers purchase two cruises for the price of one.
Posted-In: cruise linesNews Travel Events Global Economics Media General Best of Benzinga
View Comments and Join the Discussion!