Benzinga's Weekend M&A Chatter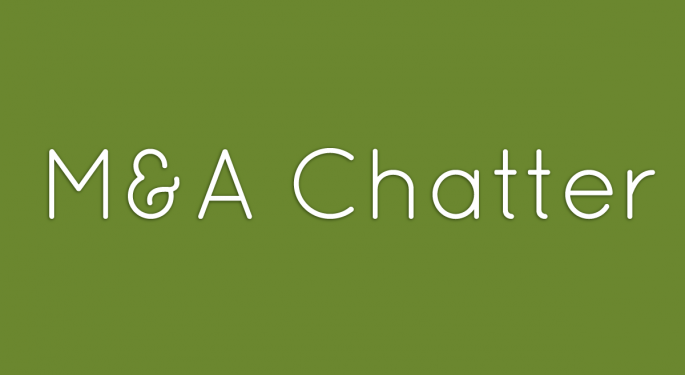 The following are the M&A deals, rumors and chatter circulating on Wall Street for Friday May 2 through Sunday May 4, 2014:
AstraZeneca Board Rejects Lastest Pfizer Bid
The Rejection:
AstraZeneca's (NYSE: AZN) Board met to review the latest proposal from Pfizer (NYSE: PFE) and has rejected the offer. The bid valued AstraZeneca at £50.00 or $84.47 per share.
The Board said was the proposal was inadequate and substantially undervalued AstraZeneca. Pfizer's previous offer of $76.62 per share offer, was officially rejected by the AZN Board on April 28.
AstraZeneca closed Friday at $81.02, a loss of $0.07. Pfizer closed at $30.75, a loss of more than 1%.
Mill Road Capital to Acquire RG Barry for $19.00/Share in Cash
The Deal:
R.G. Barry Corporation (NYSE: DFZ) and PE firm Mill Road Capital, announced Friday, that they had signed a merger agreement, under which Mill Road will acquire all of the outstanding shares of R.G. Barry for $19.00 per share in cash. R.G. Barry will become a wholly-owned subsidiary of a newly-formed corporation controlled by Mill Road.
The deal is expected to close during Q3 of 2014.
R.G. Barry closed Friday at $18.85, a gain of 4%.
Apple Reportedly Acquires Power Efficient LED Tech Company LuxVue
The Rumor:
Apple (NASDAQ: AAPL) has acquired micro-LED company, LuxVue Technology, according to sources reported by Tech Crunch. LuxVue develops low-power, micro-LED-based displays for consumer electronics.
Apple responded to Tech Crunch stating "Apple buys smaller technology companies from time to time, and we generally do not discuss our purpose or plans."
Apple closed Friday at $592.58, a gain of $1.10.
Atlantic Power Reportedly Retains Advisor to Explore Potential Sale
The Rumor:
Shares of Atlantic Power (NYSE: AT) surged higher Friday on a report from SparkSpread that the owner of power generation assets in the U.S. and Canada has hired Goldman Sachs and Greenhill & Co. to explore a potential sale.
A spokesperson for Atlantic Power was not available for comment.
Atlantic Power closed Friday at $3.33, a gain of 9.5% on almost 4 times average volume.
View Comments and Join the Discussion!