Rumor: Apple Creating Ear Buds That Collect Medical Data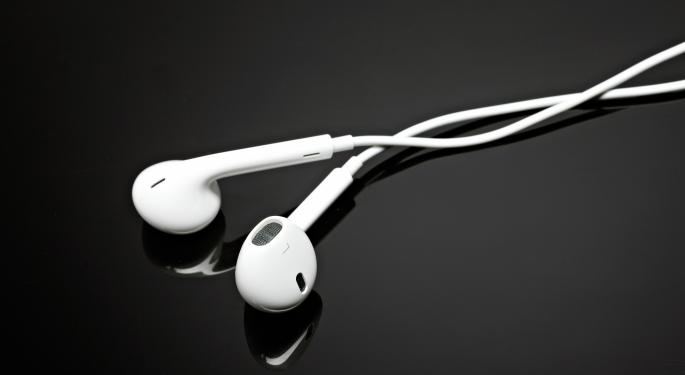 The latest news coming from the Apple (NASDAQ: AAPL) rumor mill is definitely intriguing, but the source may not be trustworthy.
According to this post, Apple may be designing a new version of its EarPods that measure heart rate and blood pressure. Supposedly the app collecting the data would store the information in a similar way that thumbprint data is currently stored—fully encrypted without anything identifiable. The user could still, however, send information to their doctor.
This post on Reddit claims that a disgruntled employee might have been the source behind the reported rumor.
The rumor is certainly interesting, but about as flimsy and unverifiable as a rumor can get. The EarPod rumor was originally posted on anonymous platform Secret—a place where just about anybody can post anything without putting their name on it. There's no way to attribute the report to a verifiable source.
Related: Apple Issuing More Bonds to Fund Increased Buyback
But others argue that it's not such an off-the-wall idea. Apple is actively working on biometric data collection. The company made key hires including medical experts, IT people who work in the field, and even a hire from MIT that researches ear-worn vital signs devices.
Apple even filed a patent application in 2007 that allowed for "headsets" that collected information and sent it to a "data repository."
A second patent was granted in February but filed in August of 2008. This allowed for a "monitoring system" of biometric data including temperature, perspiration, and heart rate."
It's clear that Apple is interested in this type of technology, but how likely is it that the company plans to roll out EarPods that collect medical data? As some people have pointed out in a MacRumors forum, finding a pulse in the ear isn't possible using known technology. Apple could be developing such a system but given that Apple only hired biomedical researchers recently, it's not likely that the technology is close to finalized.
Others point out that reports of the new EarPods using both the lightning port and the earphone jack would explain the still curious move by Apple to place the headphone jack at the bottom of the phone instead of the top.
The original version of EarPods was supposed to be a giant leap forward in ear bud technology. At the time, Apple said that the EarPods better fit the ears making for better sound quality. To date, many complain that EarPods are uncomfortable making any redesign a welcome change.
Disclosure: At the time of this writing, Tim Parker was long Apple.
View Comments and Join the Discussion!
Posted-In: Apple EarPods MacRumors MITNews Rumors Tech Best of Benzinga