AT&T Said To Be Considering Acquisition Of DirecTV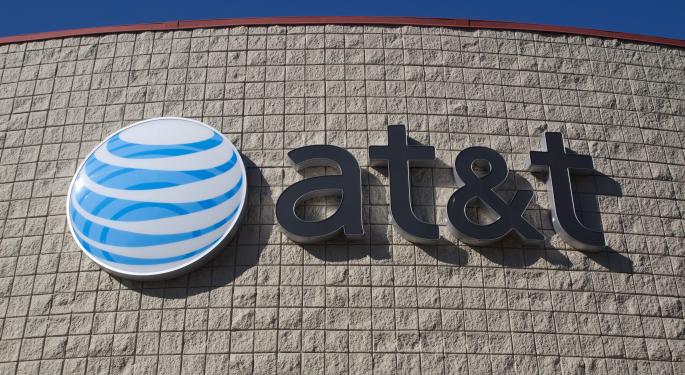 AT&T (NYSE: T) was in the process of considering a move to acquire satellite provider DirecTV (NASDAQ: DTV), according to sources who spoke with the Wall Street Journal Thursday. The deal would likely be worth $40 billion, DirecTV's current market capitalization.
The combination of AT&T and DirecTV would create strong competition for the company created by the proposed Comcast (NASDAQ: CMCSA) and Time Warner Cable (NYSE: TWC) merger.
If DirectTV's 20 million subscribers combined with the 5.7 million served by AT&T's landline-based pay TV business, the resulting almost 26 million customers would come close to the combined Comcast/TWC audience of 30 million.
As more and more customers unhook from satellite and cable in favor of streaming, growth for companies like DirecTV has begun to slow down. In addition, currently about 90 percent of U.S. households with television subscribe to cable, satellite or a phone company option.
Related: Speculation Continues About Dish/DirecTV Merger
The combination of market saturation and the growth of streaming video means satellite firms especially are vulnerable since they cannot independently offer Internet.
All this points to a buyer's market for AT&T when it comes to convincing DirecTV to agree to merger talks. AT&T, on the other hand, could use a solid base for video delivery and DirecTV would provide that.
As with the proposed Comcast and Time Warner Cable merger, any deal between AT&T and DirecTV would likely face tough regulatory scrutiny.
In addition, such a proposal would be fodder for politicians seeking to score points with voters about consumer protection issues.
If AT&T and DirecTV could show they would provide strong competition for Comcast and Time Warner Cable, both proposals could stand a better chance of approval.
Reuters noted that all this merger talk would put Dish (NASDAQ: DISH) satellite network at a disadvantage if it doesn't find a merger partner. Reports of talks between Dish and DirecTV in March did not lead to an agreement.
Comcast agreed this week to a deal that included Charter Communications (NASDAQ: CHTR) as part of its efforts to win approval from regulators regarding the merger with Time Warner Cable.
Wall Street responded to the AT&T, DirecTV merger rumors by raising DirecTV shares to a 52-week high of $81.90 Thursday morning.
Meanwhile,The Street's Jim Cramer said he was suspicious of the potential AT&T and DirecTV merger mostly based on DirecTV's presence in Latin America.
At the time of this writing, Jim Probasco had no position in any mentioned securities.
Posted-In: AT&T Charter Comcast DIRECTV dishNews Events Media Best of Benzinga
View Comments and Join the Discussion!