The Case For Investing In California Businesses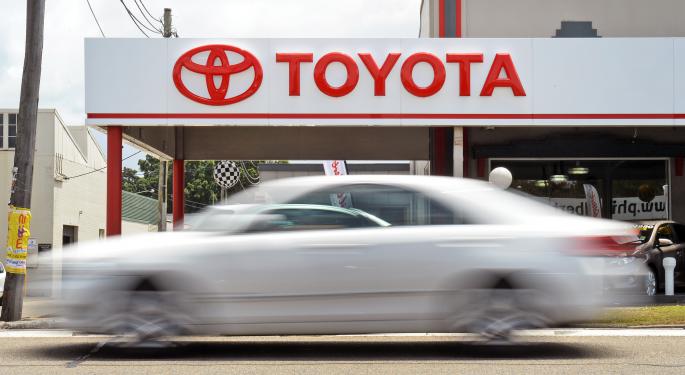 It's official. As reported by Benzinga on Monday, Toyota (NYSE: TM) has announced it is moving its North American headquarters from Torrence, California to Plano, Texas.
The move makes Toyota just the latest major company to leave California for other states over the past several years – an exodus some have blamed on California's weak economy, strict regulations and higher tax burden.
But hold on a moment, says Michael Storper, professor of regional and international development at UCLA's Luskin School of Public Affairs.
"To paint the California economy as one that is not attractive to business is a great oversimplification," he tells Benzinga. "You think about, for example, the Bay Area, which is the unquestioned world capital of high technology and remains absolutely so. Or you take Southern California, which is the second biggest metropolitan area in the nation."
Related: Is $1 Million Enough For Your Retirement?
The issue, according to Storper, is that Los Angeles County – the heart of the Southern California metropolis – is undergoing a major transition from an old economy to a new economy.
LA County, he says, "had a lot of old economy. It was a huge manufacturing area for a lot of the 20th century, and its cost structure is no longer compatible with being an manufacturing center. It's a very expensive place to live and do business."
Manufacturing Out, High Tech In
But that transition has also been going on for decades in New York, San Francisco, Chicago and other major American cities – where the the available employment has evolved from low-wage manufacturing jobs to skilled, higher wage, high-education, knowledge-based jobs and industries.
In Toyota's case, says Storper, the move to Texas makes good financial sense.
"And that's because it's a manufacturing firm, and it's consolidating its headquarters operations, and it's a perfectly natural thing to do," he adds. "It's not going to go to New York City either, right? And it's not going to go to San Francisco or Chicago, because it wants a lot of land, it wants lower labor costs, and Texas offers those kinds of things. We don't offer them in coastal California any more, and we're never going to offer them again."
At the same time, for all its issues, California's overall economy is still vigorous. Storper points to the strong, high-tech economies in Orange County and the so-called "Silicon Beach" part of western Los Angeles. And in LA County, along with a large financial services sector, there's also Hollywood and the rest of the entertainment industry.
Storper also discounts the argument that blames California's taxes and regulations for the flight of business.
"We've done research at UCLA which shows actually that, within Southern California, the communities that have had the most employment growth and the most wage growth in the past 20 years are the ones that have the highest local taxes and the highest land costs," he says. "And that's because for a place like L.A., for all of coastal California, basically – as well as places like New York and Washington and Boston – the activities that they are suited for are the ones that pay high wages and need a lot of interaction and a lot of density."
Storper believes it will take LA County another five to ten years to complete its change-over to a "new economy" model. And while he notes the state has a lot of challenges, especially with its education system, he remains optimistic.
"I think California is still, personally a very good place to invest in, simply because it has an absolutely massive talent pool," he says, "and that's north and south in California. It's a talent pool that is full of people from all over the world who still come to California for the mix of people; the attitudes that, for a century, have really been a part of the California mix."
View Comments and Join the Discussion!
Posted-In: CaliforniaNews Psychology Events Global Economics Tech General Best of Benzinga