Donald Sterling 'Controversy' Goes Far Beyond The Tape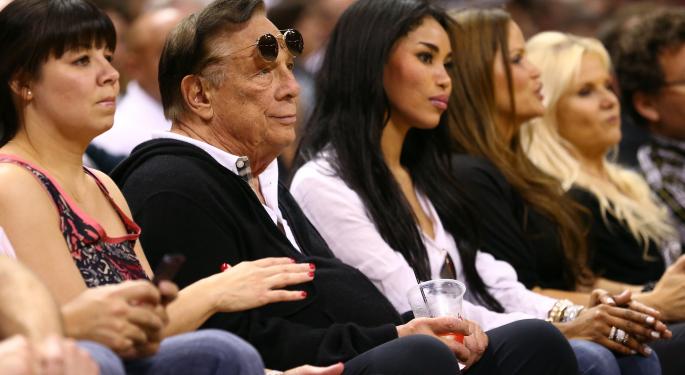 "I didn't see this coming; I saw this happen."
That sums up Bomani Jones' feelings on the issue of Donald Sterling.
Over the weekend, TMZ released an illegal audio recording of a private conversation Sterling had with his young mistress (Sterling has been married to his wife, Shelly, since 1955). He can be heard in the 10-minute clip telling his girlfriend that he didn't want her posting pictures with NBA Hall of Famer and Los Angeles Lakers legend, Magic Johnson, or any other 'black' people.
This transgression is only the latest. Jones penned a column for ESPN in August 2006, titled Sterling's racism should be news. In it, Jones details why Sterling's past transgressions should have started the conversation on this 'controversy' over a decade ago. Jones, who co-host's ESPN's Highly Questionable, added that the column was something his editors said they dropped the ball on.
"People need to stop lying about their level concern about race," Jones said Monday night on his weekly podcast. "What they care about is a chance to jump on an easy punching bag."
Housing Discrimination
In 2003, Sterling was accused of trying to drive blacks and Latinos out of buildings he owned in Koreatown. The presiding judge said this was "one of the largest" settlements ever in this sort of matter, which Sterling had to pay $5 million just for the plaintiffs' attorney fees. Three years later, Sterling agreed to pay a fine of $2.73 million to settle claims in similar case. In the latter, Sterling is alleged to have said "black tenants smell and attract vermin."
See also: CarMax First To Pull Advertising From Clippers After Racist Remarks
Jones, who holds a Master's in Politics, Economics and Business from Claremont Graduate University and a Master's in Economics from the University of North Carolina at Chapel Hill, said Sterling's issues go far beyond a tape -- the real controversy lies in redlining.
"Keeping blacks out of the suburbs, so we're gonna build these houses in the suburbs," said Jones, using Chicago as his particular example. "But all the work is in the city. So now we gotta build freeways. Where do these freeways run? Through black neighborhoods. Freeways built to get you up out of Chicago."
Jones said on his podcast that what the U.S. lacks is discussion on the race issues that are significant, "because I don't think people truly understand how crucial those issues are. A lot of people alive now inherited the discourse of the previous generation."
A PBS documentary in 2003 outlined the U.S. government's role in housing policies. "Of the $120 billion worth of new housing subsidized by the government between 1934 and 1962, less than two percent went to nonwhite families. Nonwhites were locked out of home ownership just as most white Americans were finally getting in."
The issue is a big reason how 'white flight' led Detroit, among other major cities, to lose over half its population since the 1960s or earlier. Jones continued, "one thing LA is really good at: keeping people over on their side of town."
Jones, speaking with Highly Questionable co-host Dan Le Batard on his radio show said, "when Donald Sterling was out here toying with people's lives on things that really matter, in matters of life in death - the media, the NBA, these sponsors, and all these people now who want to get patted on the back for what good people they are didn't say a mumblin' word."
LA Slumlord, NBA Owner
The Clippers, for the better part of the franchise's time in Los Angeles (Sterling went against the wish of the league and other owners by moving the team from San Diego) have been a failure. In 33 seasons as owner, the Clippers have a total of six winning seasons, three of which have come since 2011. He bought the team in 1981 for $12.7 million; as of January 2014, the franchise is worth $575 million. Bill Simmons, one the most prominent NBA writers and historians, said the team could go for $1.5 billion in a sale.
Many question why players and coaches have signed with the Clippers over the last decade, even with Sterling's past lawsuits. During negotiations with Danny Manning, who played for the team from 1988-1994, Sterling was charged with saying, "I'm offering a lot of money for a poor black kid."
In reality, a player rarely has much contact with an owner -- especially ones not named Mark Cuban or Micky Arison, known for being very hands on.
"A typical NBA player or free agent has very little to absolutely no direct communication with a professional team owner," Darren Heitner, founder and CEO of Dynasty Dealings, LLC, and Professor of Sport Agency Management at Indiana University Bloomington, told Benzinga. "In fact, it is also rare for the representative of the player to engage in any correspondence with the owner."
Heitner said a free agent, unless of very high stature, will almost solely deal with a team's general manager and said that it's much more common for the player's agent to communicate with a team's GM and other executives designated by the team to discuss contractual or off-court matters.
Related: NBA Brings Down The Hammer On Clippers' Owner: Now What?
Not Unique
Sterling is far from being the first professional sports owner, or corporate businessman, for holding such discriminatory views. One reason this particular issue has received so much attention can be attributed to social media, something not so prevalent even five years ago. The general public has an outlet to vent, whether they mean it or not, on any topical issue they want. As Jones put it, "It's so easy...it's such a funny story, so people are saying 'This is my chance to get in on racism.'"
A recent article on Benzinga detailed how Twitter can be a 'dangerous tool.' People are able to spill their feelings at a moment's notice, and as Marlene Morris Towns, a Professor of Marketing at Georgetown University's McDonough School of Business, told Benzinga, "whether you're the CEO or a low-level employee, you have things that are being sent out in real-time...It also holds you at risk."
This same situation played out with Duck Dynasty and Paula Deen over the past year. Sterling, at 81 years old and worth $1.9 billion, has lost his team, but he and the NBA will do fine. He was about to receive his second award from theNCAAP this week, before they also pulled the plug.
As O'Dwyer's, a PR and marketing news publication, wrote in February wrote in December, "So the crisis is over. Duck Dynasty is bigger and stronger than before."
Posted-In: Bomani Jones comments Darren Heitner Donald Sterling Dynasty DealingsPolitics Psychology General Best of Benzinga
View Comments and Join the Discussion!