Report: Toyota Joining Corporate Exodus Out Of California, Moving U.S. HQ To Texas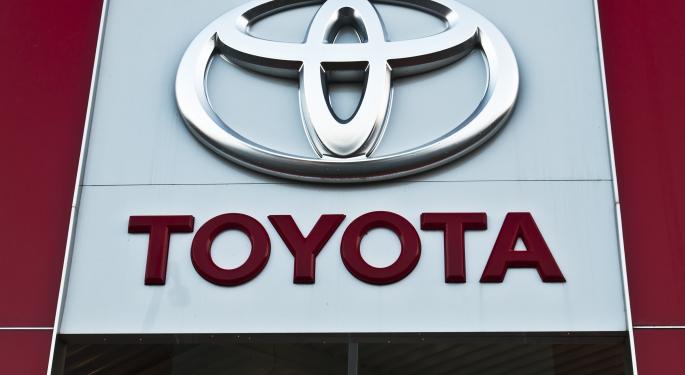 Is another large corporation abandoning California for a better economic landscape elsewhere in the United States?
Monday's Los Angeles Times reports Toyota (NYSE: TM) is expected to move its North American sales and marketing headquarters from Torrence, California to Dallas, Texas. Around 5,300 people are employed at the Toyota offices in Torrence.
The automaker currently operates 13 manufacturing plants in North America, including 10 in the U.S., while directly employing more than 32,000 people at its American facilities. Most of those U.S. plants are located in Texas and the Southeast.
Related: Beef Prices Are High, Herd Size Is Down -- But That's Only Part Of The Story
A number of companies have moved their headquarters out of the Golden State in recent years, as they look for lower operating costs, less regulations, a lower tax burden and stronger regional economies.
The 2012 passage of Proposition 30, a controversial measure that called for higher state sales tax and a raise in taxes on the higher end of the income bracket, is also being blamed for the corporate flight out of California.
Texas, meanwhile, has been actively lobbying for California businesses to relocate to the Lone Star State.
"Building a business is tough," Texas Governor Rick Perry said in one of several radio ads that ran across California markets last year, "but I hear building a business in California is next to impossible.
"See why our low taxes, sensible regulations and fair legal system are just the thing to get your business moving – to Texas."
It appears the campaign may be working. According to KTTV-TV in Los Angeles, at least 50 companies have left California for Texas over the past 18 months – including Occidental Petroleum (NYSE: OXY) , Raytheon (NYSE: RTN) and the legal document website Legal Zoom.
Posted-In: ad campaign CaliforniaNews Rumors Events Global Economics Media Best of Benzinga
View Comments and Join the Discussion!