Amazon's 'Big Spender' Act Not Impressing Investors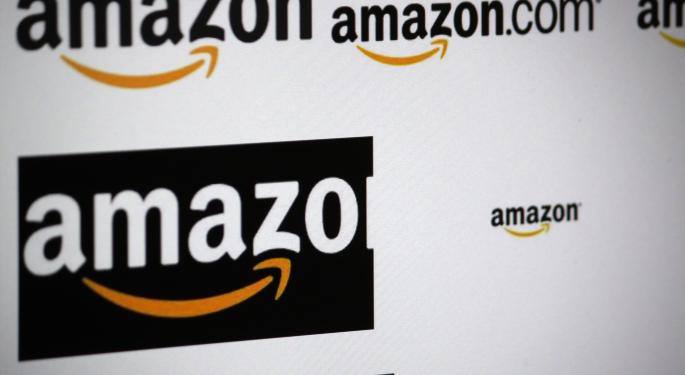 Amazon.com (NASDAQ: AMZN) shares continued dropping Monday after CEO Jeff Bezos told investors last week the company would continue spending-as-usual. Amazon shares were trading at $290.01, down $13.82 or 4.55 percent at midday Monday.
One of the key drivers of investor malaise seemed to be the fact that major investments including new warehouses, a grocery delivery service, and a TV set-top box designed to compete with Netflix (NASDAQ: NFLX) and Apple (NASDAQ: AAPL), had caused expenses to rise 23 percent during the last quarter, limiting profit to $0.23 a share.
According to the company, it would likely get even worse during the current quarter when operating losses were expected to range between $55 million and $455 million.
Kerry Rick at Needham & Co. in San Francisco told the Saint Louis Post-Dispatch, "People who are hoping for the profit kick are going to have to wait a long time." Needham & Co. rates Amazon a Hold.
Related: Amazon Revenue Grows Despite Spending Increase
It's not a secret that Bezos' vision for Amazon has always been much more than that of an online seller of merchandise. The company's cloud-computing business, along with other facets, including the Fire TV set-top box and Kindle tablets clearly demonstrate Amazon's long-term goal of being a provider of just about everything a consumer (or enterprise) could ever want to buy or use.
Amazon's dizzying array of products and services seemed to be expanding on an almost daily basis. The company on April 24 launched a new grocery service for Prime members called Prime Pantry. Through Prime Pantry, customers would be able to purchase as much as 45 pounds of bulk goods and ship them for a $5.99 flat fee.
Rumors of an Amazon smartphone continued to swirl around the techno sphere with sources indicating a 3D device could be available as soon as this summer.
Then there's the deal – another for Prime subscribers – with HBO, allowing the streaming of older shows and series as part of the streaming service that is part of Prime.
Investors, who have been asked to be patient as the company grows, were increasingly showing reluctance to hang in there. Valuwalk recently asked the question, "Is the honeymoon over?" while pointing out that two years ago Amazon's growth rate was more than 40 percent. Now it is about 20 percent.
Whether this indicates a willingness of investors to walk away or a buying opportunity remained to be seen. RBC Capital Markets analyst Mark Mahaney lowered his price target on Amazon to $400, but still maintained an Outperform rating on the stock.
According to Mahaney, investors trust Jeff Bezos. In the end, perhaps that would prove to be the most important question of all – whom do investors trust?
At the time of this writing, Jim Probasco had no position in any mentioned securities.
Posted-In: Amazon Amazon Prime AppleNews Price Target Events Analyst Ratings Media Best of Benzinga
View Comments and Join the Discussion!