Benzinga's Weekend M&A Chatter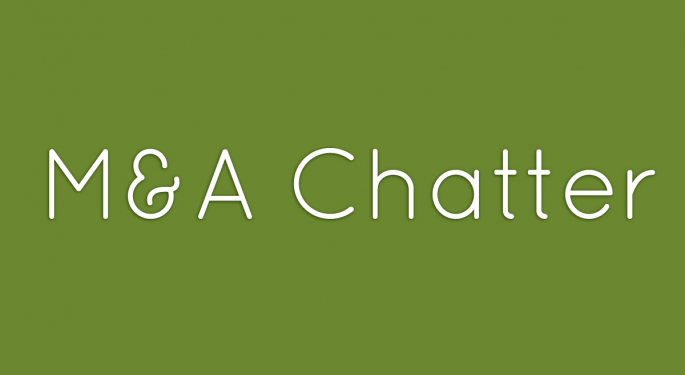 The following are the M&A deals, rumors and chatter circulating on Wall Street for Friday April 25 to Sunday April 27, 2014:
Prestige Brands to Acquire Insight Pharmaceuticals for $750M Cash
The Deal:
Prestige Brands (NYSE: PBH) announced Friday that it has agreed to acquire OTC healthcare product company Insight Pharmaceuticals for $750 million in cash. Insights high-profile brands include, Monistat and Anacin.
The deal is expected to close in H1 of FY 2014.
Prestige Brands closed Friday at $32.26, a gain of 18%.
Nokia Completes Sale of Devices Business to Microsoft
The Deal:
Microsoft (NASDAQ: MSFT) announced Friday that it has completed its acquisition of Nokia's (NYSE: NOK) Devices and Services business. The deal was approved by Nokia shareholders and by regulatory authorities worldwide.
Former Nokia President and CEO, Stephen Elop, serve as executive vice president of the Microsoft Devices Group, and report directly to Microsoft CEO Satya Nadella.
Nokia closed Friday at $7.27, a loss of $0.03. Microsoft gained $0.05, closing at $39.91.
Report Mylan Raises Offer for Meda to Over 140 Kronor/Share
The Rumor:
US generic drug maker Mylan (NYSE: MYL) has raised its bid for Sweden's Meda to $6.7 billion, or 145 kronor per share, according to a report from Financial Times. Meda rejected Mylan's previous bid, for an amount which was not disclosed.
Spokespersons for Mylan and Meda declined comment on the current offer.
Mylan closed Friday at $52.10, a gain of 3.5%.
French Government Meets to Discuss Bids for Alstom from GE, Siemens
The Talks:
French President Hollande met with ministers late Sunday evening to discuss bids for French train and power plant builder Alstom (OTC: ALSMY) from GE (NYSE: GE) and Germany's Siemen's (NYSE: SI), according to Financial Times.
Siemen's bid includes a proposal to create "two strong European champions". The German conglomerate, which operates energy, healthcare, industry, infrastructure & cities, equity investments, and financial services units, would acquire Alstom's thermal power, renewable power and grid units, while contributing significant parts of its rail systems operations to Alstom.
A meeting between Hollande and GE CEO Jeff Immelt is expected to take place on Monday.
GE closed Friday at $26.60, a gain of $0.14. Siemens lost more than 1%, closing at $132.75.
Merck Reportedly in Talks to Sell Consumer Healthcare Unit for Approximately $14B
The Rumor:
Merck (NYSE: MRK) is reportedly in talks to sell its consumer healthcare unity for around $14 billion, according to a report Saturday from Reuters. Sources report bidders include Bayer (OTC: BAYRY) and Reckitt Benckiser (OTC: RBGPF). A deal could be announced in the coming week.
Merck's consumer healthcare unit includes the popular brands Coppertone and Claritin.
Spokespersons for the companies declined comment on the report.
Merck closed Friday at $57.24, a loss of $0.29.
Chelsea Therapeutics Says No News to Account for Friday's Move
The Move:
Shares of Chelsea Therapeutics (NASDAQ: CHTP) were trading more than 10% higher at one point on Friday on no apparent news. A spokesperson for the pharmaceutical company told Benzinga the company continues to pursue launch of Northera and is exploring strategic alternatives, including finding a partner or sale of the company.
Chelsea Therapeutics closed Friday at $5.04, a gain of 4%.
Posted-In: News Rumors Politics Management M&A Global Movers General
View Comments and Join the Discussion!