Survey: Americans Still Feel Vulnerable About Healthcare Insurance Under Obamacare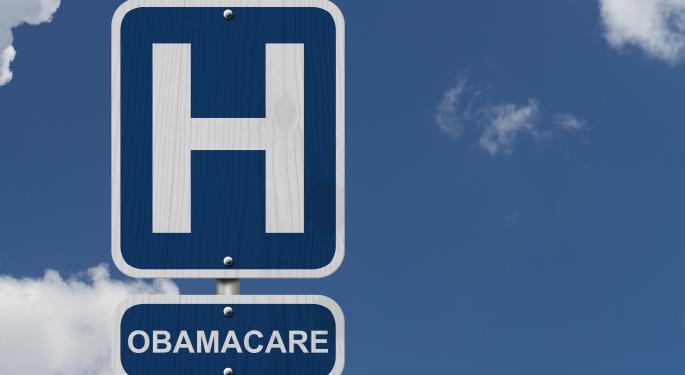 The Afforable Care Act, aka Obamacare, continues to remain a hot-button political issue as America heads into its mid-term elections.
And while a lot of Americans remain ambivalent about Obamacare and what it will mean for their present and future heath care needs, a new study by Bankrate.com (NYSE: RATE) suggests there may be a growing, if grudging, acceptance of the controversial ACA.
According to the results of the survey, which interviewed a sample 1,000 people living across the United States, only 13 percent of those polled felt their current health insurance situation was better than a year earlier. And the number of Americans who reported higher monthly healthcare costs was four-to-one higher than those who said their healthcare spending was lower.
Related: 5 Companies That Apple Should Buy
Meanwhile, the number of those surveyed who said they wanted Obamacare repealed stood at 45 percent, compared to the 44 percent who want it kept in place. And 51 percent of older Americans, ages 50 to 64, said they'd keep Obamacare – an 11-point increase compared to the last time Bankrate asked this question, this past December.
"This shift in opinion among 50-64 year-olds can likely be attributed to the fact that Obamacare bars health insurance companies from denying coverage to customers with pre-existing health conditions," Bankrate.com insurance analyst Doug Whiteman said in a press statement.
"Since people in this age group are the ones most likely to experience discrimination, they really stand to benefit from this provision in the new law."
And despite all the concerns over new surchages due to ACA, the Bankrate.com survey reported more than two-thirds of Americans were "okay" with businesses adding nominal surchages to each bill – to help pay for their employees' health insurance.
"A few well-known local and national business leaders have floated the idea of adding a small surcharge to each bill in order to compensate for increasing health insurance costs," notes Whiteman. "While most Americans may be able to swallow an extra 25 cents on their bill at their favorite restaurant, a sizable chunk (22 percent) said they would stop going to the business. I can only imagine this number increasing if businesses try to charge too much."
The survey also notes that support for any such surchage is highest among 18 to 29 year olds (64 percent) and lowest with Americans 65 and older (39 percent).
Posted-In: Affordable Care Act BankrateNews Topics Events Economics Press Releases General Best of Benzinga
View Comments and Join the Discussion!