NFL Expands, Under Armour Falls: Sports Business Wrap For The Week Of April 21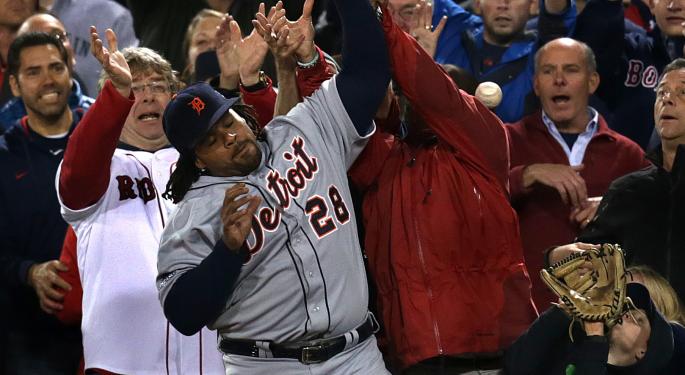 Top Stories
Meb Keflezighi Wins Boston Marathon
An American runner won the Boston Marathon for the first time in 27 years, when Keflezighi crossed the finish line after 26.2 miles at 2 hours, 8 minutes and 37 seconds - a personal record. The field included 35,755 runners, the largest in the marathon's history.
The emotionally-charged run went without any issues, just over a year after last year's bombings. There was, however, a little controversy. It was reported on Friday that Kara Bonneau of North Carolina thinks four strangers took her bib number from a picture she posted on social media.
"They just flashed the bib to get into the athletes village, get onto the course and then because they were wearing a number, nobody pulled them off," Bonneau told WBZ NewsRadio.
Related: WWE Network Becomes #2 Live Streaming Site In U.S.
NFL Expands ON ESPN And NBC, Announces 2014 Schedule
ESPN took over Monday Night Football from ABC in 2006; January 2015 will mark the first time in the history of the cable-giant's life it will host an NFL playoff game. NBC (NASDAQ: CMCSA) which began Sunday Night Football also in 2006, will be expanding its playoff coverage, broadcasting a divisional-round game for the first time. NBC is also the home to Super Bowl XLIX.
The NFL also expanded its regular-season Thursday night schedule for 2014. NBC has 18 prime-time games, ESPN has 16, while CBS (NYSE: CBS) and the NFL Network have seven each, all of them on Thursday nights. Sunday Night Football was the highest-rated program of the 2011-2012 TV season and narrowly missed the top spot last season.
With the NFL machine looking nearly unstoppable these days, it will be interesting to see how the networks battle it out for ratings - and advertising - supremacy.
Who's Watching What?
The NHL and NBA Playoffs were both underway last weekend, and to little surprised, the NBA has come away as the ratings winner. The NHL has seen its ratings increase over the last few years (good news for NBC), but still hardly makes a mark on a broader scale.
The NBA aired eight playoff games on cable networks last weekend. According to Forbes, those eight games averaged 3.5 million viewers, or more than five times the audience tuning in to the typical NHL game on NBC Sports Network. The only NHL game to even register among the top-viewed cable programming was held on April 19 - a double-overtime game between the Columbus Blue Jackets and Pittsburgh Penguins that drew a 0.3 rating with 850,000 viewers.
The NBA continued to lead all cable programs throughout the week.
A Closer Look At... Under Armour
It has not been a great end to the week for Under Armour (NYSE: UA). The stock has fallen almost eight percent in the last five trading sessions, including more than three percent just over the last day. As of 2:15 p.m. EST, Under Armour was trading at $48.78 a share.
Brian Sozzi of Belus Capital on Thursday morning noted that the apparel company did have a "very strong" quarter and sees the company continuing to win, emphasizing its significant share of floor space in Macy's and Dick's Sporting Goods.
Tweet Of The Week
Fourth-year quarterback Terrelle Pryor was traded from the Oakland Raiders to the Seattle Seahawks. Russell Wilson, the Seahawks third-year quarterback who led the franchise to its first Super Bowl championship in his second season, doesn't have much competition to worry about...but his agent might.
It's a good thing it's not about the money. Because Russell Wilson makes less than new Seahawk teammate Terrelle Pryor.

— Jim Rome (@jimrome) April 22, 2014
Wilson is actually third among the team's quarterbacks, in terms of 2014 salary. Tavaris Jackson is scheduled to make $1.25 million and Pryor $705,000; Wilson falls in at $662,000 going into his third year as a pro.
View Comments and Join the Discussion!
Posted-In: ABC Boston Marathon Brian Sozzi CBSTopics Top Stories After-Hours Center General Best of Benzinga