U.S.-Russia Tensions Over Ukraine Could Make This An Interesting Weekend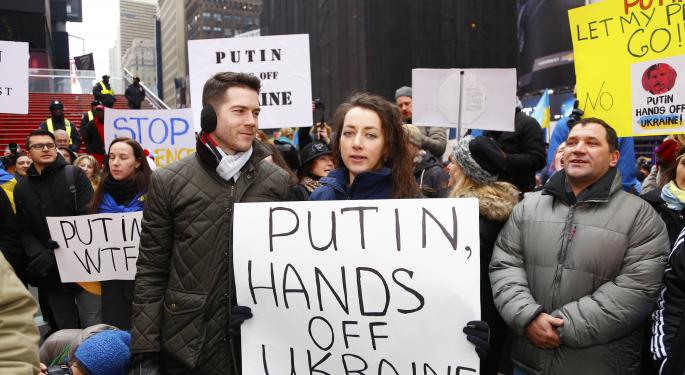 Weird things can happen over the weekend. When markets are closed on Friday, no action can be taken in the markets until the index futures reopen Sunday at 6:00 p.m. EST, and 9:30 a.m. Monday for equities, to protect your portfolio.
Countries can take adverse actions towards the United States over the weekend, knowing full well it might have  negative effects on our financial markets. Often huge drops at the markets' open fosters volatility.
The escalating tensions between the United States and Russia over Ukraine cannot be ignored. Violence is increasing on a daily basis, and Russia has all but declared its intentions and reactions if the United States attempts to intervene.
Related: Russian Threats Give Brent A Boost
Another reason for Russia to stir the pot may be the cut of its debt rating by Standard & Poors. In lieu of military intervention, the Obama administration may be encouraging some economic warfare against Moscow.
With Russian markets already down 14 percent for the year, this action by Standard and Poor's will only exacerbate the decline. Perhaps Russia will react by ramping up its military efforts in the Ukraine, to combat the economic strong-arming by the United States.
The extended period of low volatility cannot persist forever. The slow incremental rally that was so characteristic of the early stages of this bull market are no longer present. Instead, the last few weeks have characterized by wicked two-sided action.
Last week, after two violent intraday declines, the market catapulted to nearly all-time highs very quickly. However, after solid rallies on Monday and Tuesday, the market has hit a brick wall. As it approached all-time highs, institutional sellers have come out in full force and halted the rallies in many issues.
Even companies that reported good or great earnings this week have been punished. For example, the leaders in the biotech sector were not rewarded for good numbers. Both Biogen (NASDAQ: BIIB) and Gilead Sciences (NASDAQ: GILD) are trading lower since their earnings announcements.
Furthermore, Facebook (NASDAQ: FB) and General Motors (NYSE: GM), who initially rallied on earnings news, have relinquished all of those  previous gains following their releases.
One company that delivered in-line numbers has been punished. Amazon (NASDAQ: AMZN), which reported first quarter earnings on Thursday, was down more than $30 in late Friday trading and has breached its previous low for the move ($305.50), reaching $303.13 before rebounding.
Could it be that all of sudden investors are realizing this company does make any money? So if the Street is selling issues that post better-than-expected numbers, and punishing issues that post in-line numbers or lower numbers along with possibility of escalating political tensions, what should investors do?
Perhaps not wait until May to sell and go away. Get a head start on those who follow that slogan, sell in April and rest easy over the weekend.
Posted-In: RussiaNews Technicals Events Global Top Stories Pre-Market Outlook Trading Ideas Best of Benzinga
View Comments and Join the Discussion!