Benzinga's M&A Chatter for Thursday April 24, 2014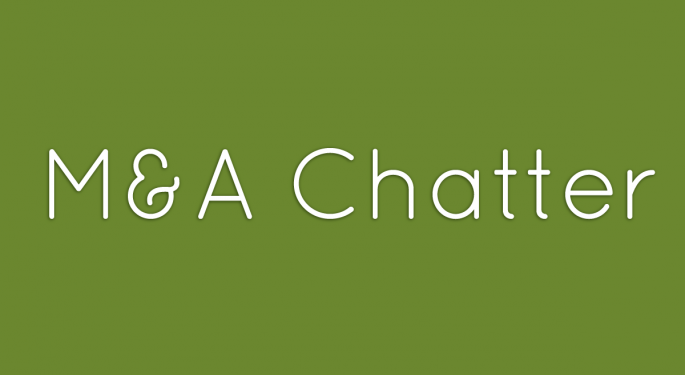 The following are the M&A deals, rumors and chatter circulating on Wall Street for Thursday April 24, 2014.
Zimmer Will Buy Biomet for $10.35B in Cash, $3B in Stock
The Deal:
Zimmer Holdings (NYSE: ZMH) and Biomet's parent company announced Thursday that Zimmer will acquire Biomet in a cash and stock transaction valued at approximately $13.35 billion. Zimmer will pay $10.35 billion in cash and will issue to Biomet's shareholders shares of Zimmer common stock valued at $3.0 billion. The deal is expected to close in Q1 of 2015.
Zimmer Holdings closed Thursday at $101.97, a gain of 11.5%.
Elizabeth Arden Reportedly Hires Goldman Sachs to Explore Sale
The Rumor:
Shares of Elizabeth Arden (NASDAQ: RDEN) spiked higher on Thursday on a report from Reuters that the company has hired Goldman Sachs to explore a potential sale, according to sources. The company is said to have contacted a small group of prospective buyers.
Today's rumor follows a report Wednesday that LG Household & Healthcare was contemplating a bid for the beauty products company.
A spokesperson was not available for comment.
Elizabeth Arden closed Thursday at $36.00, a gain of 13%.
Facebook Acquires Moves Owner ProtoGeo Oy
The Deal:
Moves owner ProtoGeo Oy announced Thursday that they had been acquired by Facebook (NASDAQ: FB). The Moves app is an all-day activity diary for smartphones. Terms of the deal were not disclosed.
Facebook closed Thursday at $60.87, a loss of $0.49.
View Comments and Join the Discussion!