Benzinga's M&A Chatter for Wednesday April 23, 2014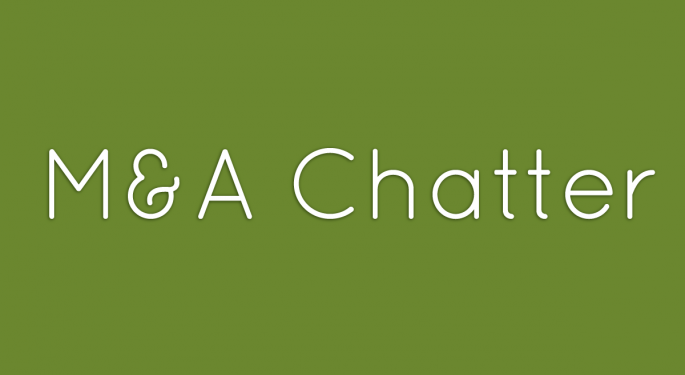 The following are the M&A deals, rumors and chatter circulating on Wall Street for Wednesday April 23, 2014:
Allergan Adopts Shareholder Rights Plan Following Valeant Bid
The Plan:
Allergan (NYSE: AGN) announced late Tuesday that its Board of Directors has unanimously adopted a one-year stockholder rights plan effective April 22, 2014 and declared a dividend distribution of one preferred share purchase right on each outstanding share of the Company's common stock. Allergan announced the plan following Valeant Pharmaceuticals' (NYSE: VRX) offer of $48.30/share in cash, plus 0.83 shares of Valeant.
Allergan said the plan is not intended to prevent an acquisition of the company, but give the Board with adequate time to fully assess any proposal. Investor Bill Ackman, who is working with Valeant on its bid, said the 'poison pill' is ok, as long as it is being used to explore additional offers and not to entrench the company.
Allergan shares closed Wednesday at $165.65, a gain of more than 1%, while Valeant closed at $133.23, a loss of 1.5%.
Report Riverbed Not Interested in Sale
The Rumor:
Shares of Riverbed Technolgy (NASDAQ: RVBD) spiked lower briefly Wednesday, on a report from Forbes that the company was not for sale, despite the hiring of Goldman Sachs and Wilson Sonsini Goodrich & Rosati as advisors.
Investor Elliott Managment reiterated its $21.00 per share bid on April 15, a bid rejected by the company on February 28.
Spokespersons for Riverbed and Elliott Management were not available for comment on the report.
Riverbed Technology closed Wednesday at $19.50, a loss of almost 1%.
Report GE Rumored to Be Considering Purchase of Alstom for $13B
The Rumor:
Bloomberg reported on Wednesday that GE (NYSE: GE) is in talks to acquire the French builder or trains and power plants, Alstom (OTC: ALSMY), for $13 billion, according to sources.
A spokesperson for Alstom, said the report was a groundless rumor. A GE spokesperson declined comment.
GE closed at $26.42, a loss of $0.16.
View Comments and Join the Discussion!