Rumor: Pfizer Planning $100 Billion Bid For AstraZeneca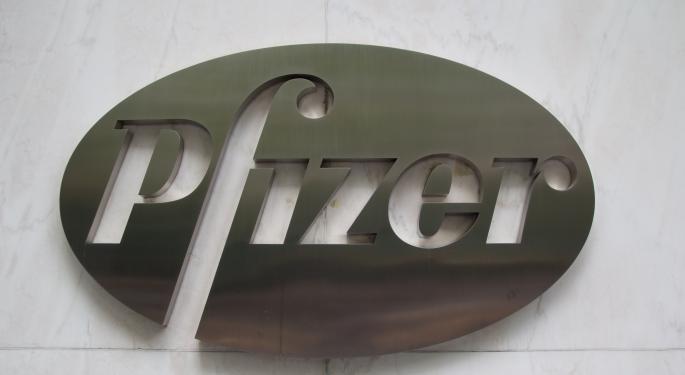 According to Reuters, big pharma giant, Pfizer (NYSE: PFE) is considering a $100 billion bid for overseas rival AstraZeneca (NYSE: AZN).
Reuters gives credit to Britain's Sunday Times that cited  senior investment bankers who said that conversations between the two companies had taken place but had stalled after AstraZeneca said it wasn't interested.
Both Pfizer and AstraZeneca declined to comment on the rumor.
Drug Pipeline Concerns
Why would Pfizer be interested in AstraZeneca?
In its last earnings announcement, AstraZeneca announced a six percent drop in earnings. The company expects earnings to continue to fall as generic competition to its heartburn drug, Nexium, impacts U.S. profits.
Moreover, AstraZenca is having pipeline problems—a place no big pharma companies want to be.
See Also: AT&T Threatening to Boycott Wireless Spectrum Auction
Last year, the company's new CEO Pascal Soriot said that his top priority was to accelerate the company's cancer drug pipeline. Olaparib, an ovarian cancer drug and lung cancer drug, selumetinib joined an experimental leukemia drug in Phase III trials, evidence that the company sees the crisis in front of it.
Menelas Pangalos, head of innovative medicines told Reuters, "We are becoming more aggressive as a company and less fearful of taking smart risks."
But Pfizer's interest in AstraZeneca is for similar reasons. The company also faces a lull in its pipeline, notably, a loss of patent protection for blockbuster drug, Lipitor.
Big, Tax-Advantaged Deal
In addition, Pfizer keeps money overseas that it doesn't want to repatriate in light of the 30 or more percent tax it would pay to bring the money to the United States. That potential tax bill makes an overseas acquisition attractive.
If the deal did happen, it would be one of the largest in history—The sixth largest, in fact.
The fifth largest was Altria's sale of Philip Morris in 2008 for $111.2 billion. Pfizer's purchase of Warner-Lambert for $111.7 billion in 1999 is number five and AOL's 2000 acquisition of Time Warner for $112.1 billion is number three.
The two Vodafone deals rank as the largest. Vodaphone's sale of its Verizon stake for $130 billion ranks as number two and its purchase of Mannesmann for $171.9 billion in 1999 was the largest. Adjusted for inflation, that would be a $243.8 billion deal today.
Disclosure: At the time of this writing, Tim Parker had no position in the companies mentioned.
Posted-In: AstraZeneca PfizerNews Rumors M&A Best of Benzinga
View Comments and Join the Discussion!