Benzinga's Weekend M&A Chatter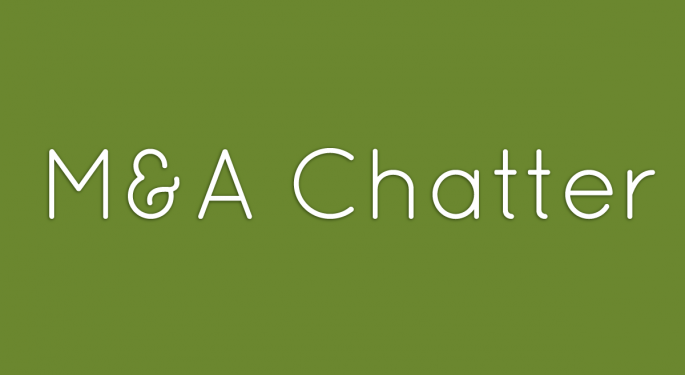 The following are the M&A deals, rumors and chatter circulating on Wall Street for Friday April 18 through Sunday April 20, 2014.
Report Pfizer Discussed $100B AstraZeneca Acquisition
The Rumor:
The UK's Sunday Times reported New York-based Pfizer (NYSE: PFE) had reportedly had talks with the UK's Astra Zeneca (NYSE: AZN) about a potential takeover deal, according to sources. The deal could be worth £60 billion ($101 billion). According to the publication, the talks are no longer ongoing.
Spokespersons for the two companies declined comment on the report.
Pfizer is the world's largest drug company, with a market cap of $193 billion.
Pfizer closed Thursday at $30.25, a gain of $0.16, while AstraZeneca lost $0.04 to close at $63.49.
Comcast, Time Warner Cable Reportedly in Discussions to Sell Subscribers to Charter Communications for Up to $20B
The Rumor:
Comcast (NASDAQ: CMCSA) and Time Warner Cable (NYSE: TWC) have reportedly begun negotiations with Charter Communications (NASDAQ: CHTR) to sell cable assets, including 3 million-5 million subscribers, in a deal that could be worth as much as $20 billion, according to Financial Times. Comcast said the talks are at an early stage, according to sources
Comcast and Time Warner Cable are waiting for US regulatory approval for their merger, announced on February 13.
Comcast closed Thursday at $49.10, a loss of $0.07. Time Warner Cable closed Thursday at $135.33, a loss of $0.29. Charter Communications closed down $0.28 to end the day at $117.83.
iSoftStone Announces Definitive Merger Agreement for Going Private Transaction at $5.70/ADS
The Deal:
iSoftStone (NYSE: ISS) announced Friday that it has entered into a merger agreement with New iSoftStone Holdings Limited and New iSoftStone Acquisition Limited, to be acquired for $0.57 per ordinary share of iSoftStone or $5.70 per ADS. The transaction is subject to approval by shareholders.
iSoftStone closed at $5.11 on Thursday, a gain of $0.03.
View Comments and Join the Discussion!