LEDs Seen In More Industries As A Cost-Efficient, Durable Lighting Alternative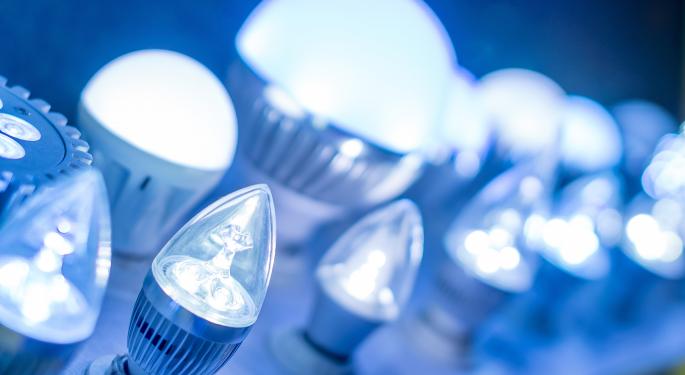 Light-emitting diodes, or LEDs, are often touted as a new technology; but in truth they've been around for a half-century or more.
It's only been in the past several decades that they've been able to catch up and surpass a lot of the more traditional electric light sources we've used.
According to the U.S. Department of Energy, current LED bulbs are up to seven times more energy efficient than their incandescent counterparts and can last up to 25 times longer.
And, while a major issue with LED technology has been its relative costliness, the DOE also notes that, since 2008, the cost of LED bulbs has dropped by more than 85 percent.
LED technology is now turning up all over the place, especially in the automotive, interior construction and agriculture sectors.
Related: Denver Cannabis Shops Gear Up for Lucrative Tourist Trade
Last month, Ford (NYSE: F) announced its popular F-150 pickup had become the first truck to offer "tougher, brighter, more efficient LED headlamps." The automaker acknowledges that, along with their improved lighting performance and durability, the LEDs are smaller than traditional headlamps, making them both easier to package and to incorporate in their vehicle's lighting design.
On April 10, Wal-Mart (NYSE: WMT) said it plans to purchase General Electric (NYSE: GE) LED ceiling lighting fixtures for its supercenters in the U.S., as well as for Wal-Mart stores in Asia, Latin America and the UK.
The new fixtures will reportedly use 40 percent less energy than traditional lighting sources – and will reduce the kilowatt power per square foot of energy needed to power Wal-Mart facilities worldwide by 20 percent, within the next six years.
Wal-Mart's President and CEO Doug McMillon said his company was "paving the way" for LED usage across the retail sector.
"LEDs have become an integral part of our energy efficiency model for our stores and play a key role in achieving our overall sustainability goals," he said in a press statement. "Just as important, the energy cost savings coming from these innovations will help us maintain the low prices our customers depend on us to provide."
A 2013 Purdue University study, meanwhile, found tomatoes grown around LED lights during the winter months and "significantly reduce greenhouse energy costs without sacrificing yield."
And one sector of agriculture that has embraced LED technology is the booming marijuana industry.
Colorado-based Denver Relief, a consulting group and medical dispensary, recently announced it had hired former NASA scientist and LED specialist Neil Yorio to advise the company during the development of its new, 40,000-square-foot cannabis growing facility.
"It's helpful to have a strong foundation with the plant growth research side of LED technology," Yorio, who studied plant growth with NASA for long-duration space missions,said in a press statement. "I am in a unique position to both understand the lighting requirements, as well as the manufacturing and performance requirements, for product development."
Posted-In: agriculture automotive cannabis commercial retailNews Global Tech Trading Ideas Best of Benzinga
View Comments and Join the Discussion!