How One Former Wall Street Trader Is Changing U.S. Manufacturing...With Vodka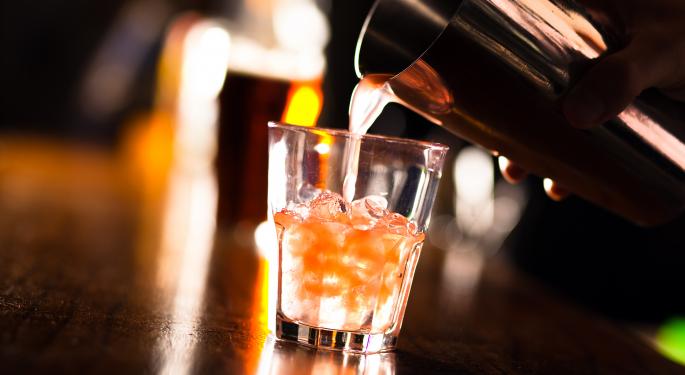 Rufino Valentine grew up in a Northern Michigan town where you bought milk from the local dairy. He was raised with an appreciation and respect for handmade products. After attending college at Cornell University, he migrated naturally to Wall Street and worked as a trader for about a decade.
And then he left.
To start a micro-distillery. In Detroit.
It all started with a dirty martini kick.
"Like a lot of traders, I spent a little bit of time in bars," Valentine told Benzinga. "I'd go in and just tell a bartender, 'Give me your best dirty martini.'"
What he soon realized is that the spirits considered the best were usually imported and mass-produced. Even if the liquor was packaged to be an artisan product, the mother company was usually a big conglomerate.
Related: Craft Beer Market Continues to Grow
"When you walk into a liquor store nowadays, almost everything on the shelf is owned by only a handful of companies," said Valentine. "You see all the different brands, but there's really half a dozen companies behind all of them."
Valentine said big corporations often have one goal: profit. While companies used to try and make money by making the best products, he said, the strategy nowadays is sacrificing quality to maximize profit. This frequently includes manufacturing products oversees.
"We designed the iPhone here, but then it's all manufactured and put together some place else, and then we essentially import it," he said.
So, Valentine left Wall Street and made it his mission to be a catalyst for bringing back what built the U.S. economy: quality manufacturing.
Distill Locally, Compete Internationally
Valentine started Valentine Distilling about six years ago, where he makes vodka, whiskey and gin. He chose the Motor City because its history is intertwined with the manufacturing industry in the U.S. His distillery is the first in the Detroit area since Prohibition.
With the goal of bringing manufacturing back, Valentine knew early on that he didn't just want to be a local manufacturer. He wanted his products to be able to compete on an international level, right alongside the conglomerate-owned, imported spirits. His products are not only competing, but prevailing.
The Tasting Panel gave Valentine Vodka a 94-point ranking, placing it above popular international brands like Belvedere, Ketel One, Grey Goose and Absolut. Valentine's Liberator Old Tom Gin was named the world's best cask gin by the World Gin Awards in London earlier this year.
Valentine wants to change the idea that making the most money and making the highest-quality product are in direct conflict with each other.
"I would argue that we are living proof that you have both," he said. "You can make the best products, and you can be profitable."
The Wall Street Edge
What sets Valentine apart from other entrepreneurs is what he took from his experience on Wall Street -- mainly, his competitiveness.
"That is probably the single most thing that has allowed us to succeed against the huge companies," he said.
And Valentine Distilling has definitely been exceeding. Sales have just about doubled each year for the company.
"I always keep sitting there waiting for growth to slow down," he said, "and fortunately, it's not."
Related: Raise Your Glass: Bud Light Makes Up 20 percent Of Beer Sales
As a result, Valentine Distilling has outgrown its current space. The cocktail lounge attached to the current distillery will remain where it is in Ferndale, Michigan, but the manufacturing operations will move to a 15,000 square foot facility solely dedicated to the production side of the business. The plan is to open up the facility in later summer or early fall of this year.
Valentine's spirits are distributed in seven states right now, but he hopes to increase that to 15 or 20 by the end of 2014. The distillery will be doing its first export sale to Italy later this year.
"That kind of brings it full circle to me, because that out-of-state stuff is great. Michigan is exporting and bringing in money from other states," said Valentine. "But then, when you finally export to another country, then money is coming into this country."
Valentine's hope for the manufacturing industry is that people start to appreciate where their things come from, how they're made and what they're made of.
"I'm not stopping until not another bottle of Grey Goose is sold, in this state at least," he said.
View Comments and Join the Discussion!
Posted-In: alcohol alcoholic beverage industry Beverage IndustryNews Entrepreneurship Success Stories Interview General Best of Benzinga