Windows Phone 8.1 Supports Apple's Passbook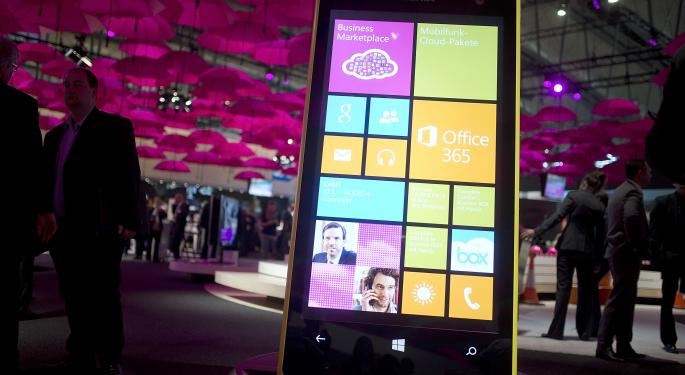 Strange as it seems, it would appear that is the case. Whether it is an "under the radar" feature by Microsoft (NASDAQ: MSFT) or comes with Apple's (NASDAQ: AAPL) blessing, was not known according to iMore.
What is known is that Passbook, a feature of iOS 6 that allows users to store tickets, coupons, boarding passes, loyalty programs and other cards in one place, apparently works with Microsoft Wallet on the new phone.
Since Passbook passes are really just collections of data, Windows Phone 8.1 can take that data and create a card that can be stored in Microsoft Wallet. It's not a perfect match, however. Apple provides a push-notification service to update cards and it is not likely Windows Phone can connect with Apple's push system.
Related: Study: Microsoft Most Trusted and Reliable Tech Brand
The notion of Passbook working with a Windows Phone makes sense -- to everyone except Apple that is. From Apple's viewpoint, Passbook is a proprietary feature and not something it likely wants made available to the competition.
The question of whether Apple approves or not is important. If not, Apple might be able to stop the systems from working together, ending the marriage abruptly.
As AppleInsider reported Monday, historically Apple hasn't taken kindly to rivals making off with its features. AppleInsider noted the ongoing dispute between Apple and Palm over the fact that Palm tweaked its software to trick Apple's iTunes into thinking Palm devices were actually iPods. This allowed users to sync music on their Palm handsets.
The new Windows Phone 8.1 was clearly designed to compete with Apple devices. It even has its own "Siri-like" personal assistant known as "Cortana."
In head-to-head comparisons involving Siri, Cortana and Google Now, the PAs have come out mostly equal. That is actually a feather in the cap of Microsoft, which is considered to be in catch-up mode anyway.
It is noteworthy that when Microsoft's Windows 8.1 Phone was first unveiled there was no mention of the device's built-in support for Passbook. This "stealth" feature, if it remains, will be added to the many "not-so-stealthy" features being touted by Microsoft including Cortana, Internet Explorer 11, Quiet Hours programmed silence, an updated calendar and several others.
Meanwhile, with or without Apple's blessing, the new Windows 8.1 Phone was getting generally positive reviews, though it lacked the huge app library of its iOS and Android competitors.
At the time of this writing, Jim Probasco had no position in any mentioned securities.
Posted-In: Apple Cortana Google Now Internet Explorer 11News Events Tech Media Best of Benzinga
View Comments and Join the Discussion!