Staples Vs. Office Depot: Which Would You Rather?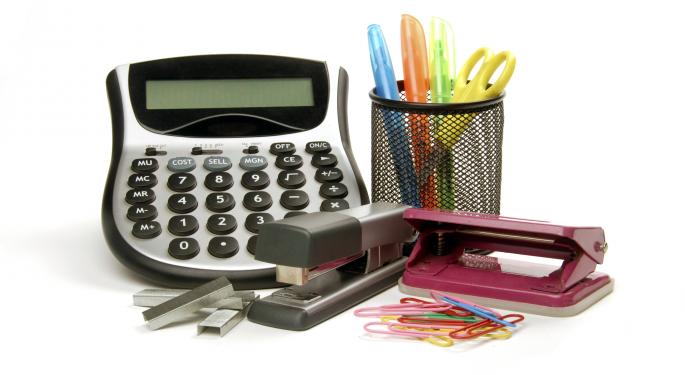 Over the last ten years, the office-supply industry has been dominated by retail giants Staples (NASDAQ: SPLS) and Office Depot (NYSE: ODP).
Last November, Office Depot merged with industry competitor OfficeMax, in a deal that was expected to give Office Depot the industry lead. The truth is that both Staples and Office Depot are not doing as well as they probably should be, and many investors are beginning to take a second look at each of them as a potential stock purchase.
The merger of Office Depot and OfficeMax was, of course, intended as a boon to the former -- in order to increase its competitive edge. But that plan has thus far has worked out , and while both companies are among the industry leaders in profits, they are both also among the leaders in the number of retail stores they are closing. So in a case like this, we ask which company is the better investment: Staples or Office Depot?
Related: Intel vs. AMD - Which Would You Rather Micro Edition?
But as with most things in business these days, the online environment has changed that. Customers can make purchases online and have items shipped directly to their front door in as little as 24 hours. This makes already strong companies like Wal-Mart, Target and Best Buy essentially new competition for Staples and OfficeMax.
Since its merger, Office Depot has closed 22 of its retail outlets -- with many more closings planned this year. Retail sales in North America have dropped four percent and business solutions have dropped almost two percent.
Additionally, Amazon increased its domestic sales numbers by more than 25 percent in just the last quarter alone.
Considering the fact that nearly 70 percent of that sales increase was from electronics and "general merchandise," it is reasonable to assume many of those sales likely would have gone to Staples or OfficeMax just a few years ago.
Staples, on the other hand, has a plan to combat its additional industry competitors, but it may only be a short-term fix. The company is planning to shutter upwards of 225 retail outlets by the end of this year, and make online sales its primary focus. This would make sense, at least initially, since almost 50 percent of the sales come from its online store -- which itself is enjoying growth of about 10 percent. Commercial sales are also up about two percent -- which is significant, considering Office Depot's are on the decline. One of the main problems, however, is that while Staples.com increased its online product catalog from 100,000 to 500,000 items last year, Amazon's catalog is more than 1.2 million items strong.
Posted-In: office supplies office supply industry online shoppingNews Retail Sales Events Markets Tech Best of Benzinga
View Comments and Join the Discussion!