'Wearable' Bling Is Fast Becoming King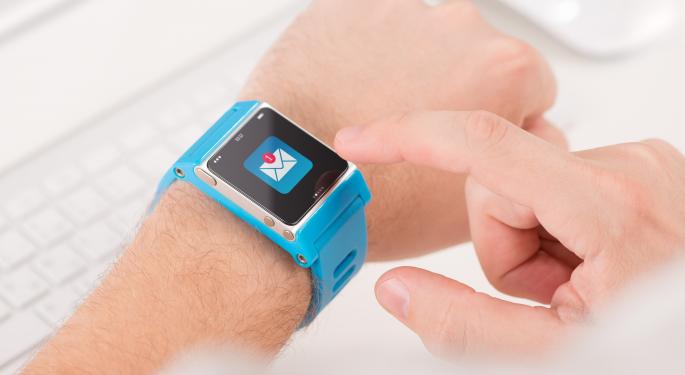 Shipments of wearable computing, especially of the functional and stylish variety, will exceed 19 million units in 2014, according to research from International Data Corporation released Apr. 10. In addition, IDC reported that by 2018 the worldwide market would grow to nearly 112 million units.
Wearables have clearly moved out of "early adopter" status and, IDC said, into the pages of GQ and Shape – not just Computerworld and Wired.
Among the most popular wearables are Nike's (NYSE: NKE) Nike+ FuelBand, Jawbone UP and Fitbit devices, all part a rapidly growing fitness and health space. These devices fall into a category referred to as complex accessories designed to operate partly independent of other devices. To make full use, however, they connect to smartphones, tablets or PCs to download and analyze data collected.
Ramon Llamas, research manager on IDC's Mobile Phones team said, "Complex accessories have succeeded in drawing much-needed interest and attention to a wearables market that has had some difficulty gaining traction. The increased buzz has prompted more vendors to announce their intentions to enter this market. Most importantly, end-users have warmed to their simplicity in terms of design and functionality, making their value easy to understand and use."
Related: Google Glass Is Going To Work
A second segment of the wearables market showing great promise is the smart accessories segment, consisting of devices like smartwatches such as Samsung's Gear and the yet-to-appear Apple  (NASDAQ: AAPL)iWatch. Smart accessories allow for third-party apps that augment and add features.
A third wearable segment - smart wearables - features devices such as Google Glass, which are fully independent, except for the fact they access the Internet. These devices, which function like a wearable computer, are among the most exciting as well as controversial devices in the wearable space.
Exciting because of the potential, controversial because of both the power they give individuals and privacy concerns related to devices like Glass. Still, IDC said it was not a question of "if" but "when" wearables as a group would become a major player in enterprise.
IDC's research revealed that Samsung was the most trusted name in wearables, ahead of Apple, Sony  (NYSE: SNE)and Google. That might have to do with the fact Samsung has already unveiled multiple wearables and is a recognized name in the space.
Meanwhile, PCWorld said the future of at least one segment - smart wearables - especially smartglasses would be more determined by how businesses adopt the devices than by their use by regular consumers.
To that end, XOEye Technologies was positioning itself by providing its smartglasses to about two dozen companies in blue collar industries in an attempt to gain a foothold in what could become a very lucrative market.
At the time of this writing, Jim Probasco had no position in any mentioned securities.
View Comments and Join the Discussion!
Posted-In: Apple complex accessories Computerworld FitbitNews Events Tech Media Best of Benzinga