What Is Pandora Co-Founder Will Glaser's Greatest Accomplishment?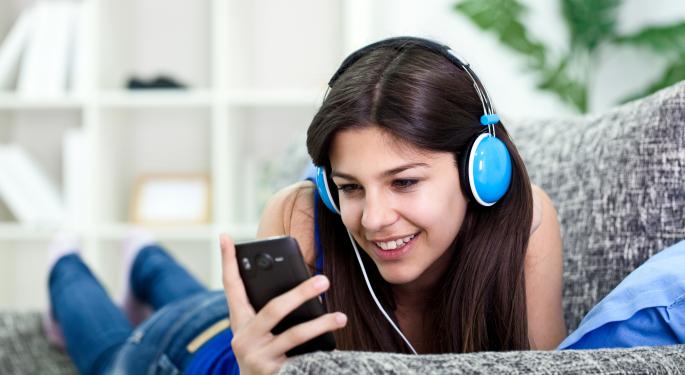 Pandora (NYSE: P) co-founder Will Glaser has said that his children are his greatest overall accomplishment, but what is he most proud of professionally?
During an interview with Benzinga, Glaser said that he was most proud of the fact that you can be in a quiet, nondescript office building "and create something that people will use."
That might just be the understatement of the century, since Pandora is used by more than 70 million people every month.
Glaser spoke about the experience of seeing strangers use Pandora (on their phones and laptops) in a coffee shop. None of them were aware that they were standing next to one of Pandora's creators -- they were merely enjoying the radio service along with their beverage.
"That's the thing that I enjoy the most -- knowing that people I'll never know are using technology that I contributed to," said Glaser.
Related: Is Pandora Co-Founder Will Glaser The Most Generous Entrepreneur In Silicon Valley?
Goals And Pitfalls
In addition to his accomplishments, Glaser spoke about entrepreneurial goals and the inevitable pitfalls.
"The majority of startups, of course, fail," said Glaser. "The IPO is what almost everybody aims for almost all the time. It's a so-called liquidity event where all that energy you put into this thing comes back in the form of money, the financial payoff for the huge time and emotional investments."
But that is not the only way for a startup to achieve success. WhatsApp, for example, could have gone public. But the company made billions of dollars by accepting an offer to be acquired by Facebook.
"If you're doing a startup that builds a technology or service, whatever it is, and you get acquired by a large player, that's still a success because the technology goes on to have a life in the organization that can be distributed widely to people," said Glaser.
The founders and investors also get paid back -- hopefully with a huge profit.
"But again, the majority of startups (I'd say over half) do not succeed," Glaser added. "That's a shame."
After leaving Pandora, Glaser turned to consulting work and currently advises a number of startups, including OverNear. He told Benzinga that he expects to launch two (possibly three) more startups in his career, but will likely continue consulting in between them.
"I'll probably do that in a year or two," he said. "I'll do my own startup. And I'll do that for a few years and then I'll go back to consulting. It serves me well to go back and forth."
Disclosure: At the time of this writing, Louis Bedigian had no position in the equities mentioned in this report.
Posted-In: OverNear PandoraNews Management Success Stories Startups Tech Interview Best of Benzinga
View Comments and Join the Discussion!