Google Glass Is Going To Work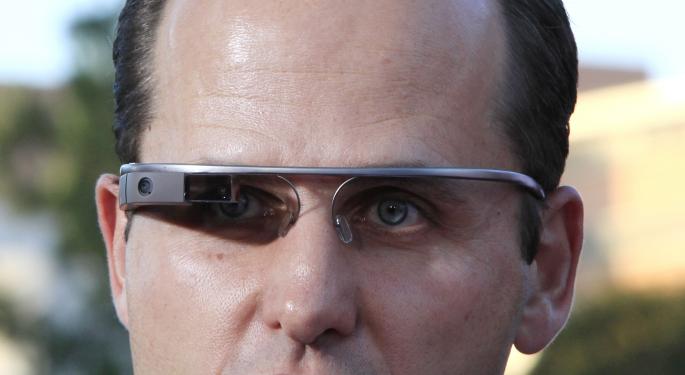 Over time, consumers in general may take to Google (NASDAQ: GOOG) Glass. Many, however, believe the device has significant potential in the world of enterprise. So does Google, and as a result, Google Glass is seeking placement at a business near you.
Late Monday Google announced, via Google+, a program called "Glass at Work" designed to encourage developers to create Glass software for U.S. based enterprise. In the post Google asked software developers who were creating business-related apps to "get in touch" by registering via a special "Glass-At-Work" link.
Google pointed to examples of how various businesses were already using Glass. One was a firefighter who developed an app for navigation through a burning, smoke-filled building. Others included doctors using Glass to view medical charts while meeting with patients.
Another unique business use noted by Google was in the world of professional sports.
Related: Google Obsessed With Speed, Says 10 Gigabit Internet On The Way
In the post, the company said, "The Washington Capitals partnered with APX Labs to create a fan experience where real time stats, instant replay, and different camera angles are all brought directly to Capitals fans via Glass."
Given the current cost of the Glass device ($1,500) and the fact many people simply won't wear what they think are nerdy-looking glasses in public, the use of Glass in business was thought to make a lot of sense.
After all, people use equipment on their job that they wouldn't use in their normal lives. In business, Glass would be considered a tool, not an obtrusive, strange-looking spy device.
In addition, Gigaom noted that many of the core features of Glass were also becoming available in other wearable devices like smart watches, which would be considered far more socially acceptable.
Glass is not yet widely available yet except as part of Google's Explorer program. That program has seen some expansion since it began, making Glass more accessible to enterprise.
According to Forrester Research vice president J.P. Gownder, "While enterprises can't easily buy Glass on the open market, Google has increased the Explorer program to roughly 10,000+ Explorers. And companies can afford the $1,500 price tag more easily than consumers. So you see numerous trials of Glass among companies."
Incentives for businesses to adopt Glass include efficiency and savings. Market research firm Gartner said, "In the next three to five years, the industry that is likely to experience the greatest benefit from smart glasses is field service, potentially increasing profits by $1 billion annually. The greatest savings in field service will come from diagnosing and fixing problems more quickly and without needing to bring additional experts to remote sites."
At the time of this writing, Jim Probasco had no position in any mentioned securities.
View Comments and Join the Discussion!
Posted-In: APX Labs enterprise Explorer Forrester ResearchNews Events Tech Media Best of Benzinga