Benzinga's M&A Chatter for Tuesday April 8, 2014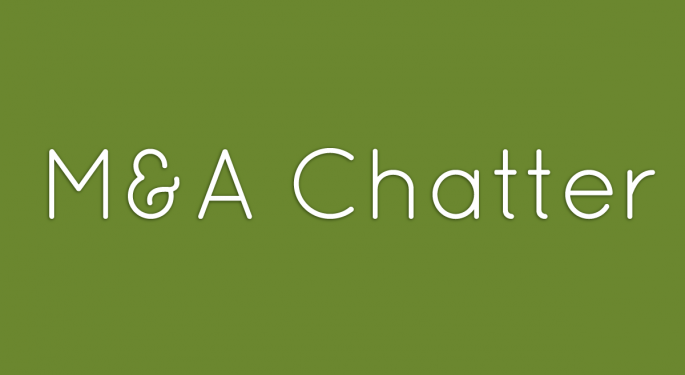 The following are the M&A deals, rumors and chatter circulating on Wall Street for Monday April 7, 2014:
Xerox Acquires Smart Data
The Deal:
Xerox (NYSE: XRX) announced Tuesday the acquisition of Smart Data Consulting, a provider of technology consulting and e-discovery services to legal, government and corporate entities. Terms of the deal were not disclosed.
Xerox shares closed Monday at $11.49, a gain of $0.06.
IP Acquires Remaining 25% Stake in Orsa IP Embalagens for $135M
The Deal:
International Paper (NYSE: IP) has acquired the remaining 25% of shares of Orsa International Paper Embalagens S.A. from its jv partner, Jari Celulose, Embalagens e Papel S.A. for approximately $135M. IP will now have full ownership of three containerboard mills and four box plants, which comprised Jari's former corrugated packaging assets.
International Paper closed Monday at $45.34, a gain of $0.23%.
PVH Acquires Minority Stake in Karl Lagerfeld
The Deal:
PVH (NYSE: PVH) announced Wednesday that it has become a minority shareholder in the parent company of the Karl Lagerfeld brand, giving PVH the right of first offer to license the brand for North America. Terms of the deal were not disclosed.
PVH closed Monday at $123.49, a gain of $0.92
View Comments and Join the Discussion!