Benzinga's M&A Chatter for Monday April 7, 2014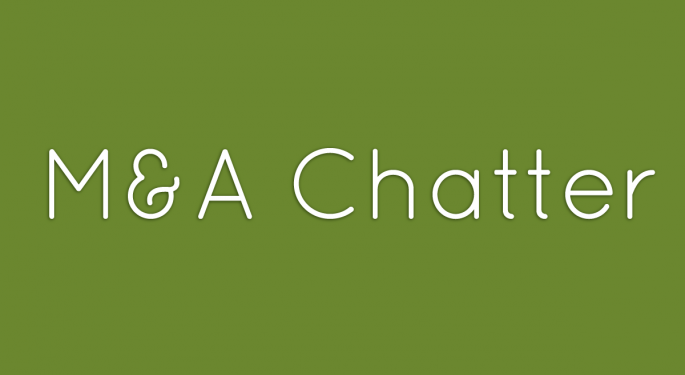 The following are the M&A deals, rumors and chatter circulating on Wall Street for Monday April 7, 2014:
Mallinckrodt to Acquire Questcor Pharmaceuticals for $86.10/Share in Cash, Stock Deal
The Deal:
Mallinckrodt (NYSE: MNK) and Questcor Pharmaceuticals (NASDAQ: QCOR) announced Monday that Mallinckrodt will acquire Questcor for approximately $5.6 billion. Under the terms of the agreement, Questcor shareholders will receive $30.00 per share in cash and 0.897 Mallinckrodt shares for each share of Questcor common share they own, or approximately $86.10 per Questcor share.
The deal is expected to close in Q3 2014.
Questcor shares closed Monday, well off the premarket high, at $80.58, a gain of more than 18%.
GTCR to Acquire Vocus for $18.00/Share
The Deal:
Vocus (NASDAQ: VOCS) announced Monday it has agreed to be acquired by an affiliate of GTCR LLC in an all-cash deal valued at approximately $446.5 million. Upon the terms of the agreement, GTCR Valor Merger Sub will commence a tender offer to acquire all of the outstanding shares of Vocus's common stock for $18.00 per share in cash. GTCR Valor Merger Sub will also acquire all outstanding shares of Vocus's Series A Convertible Preferred Stock for $77.3 million.
The transaction is expected to close before the end of Q2 2014.
Vocus closed Monday at $17.92, a gain of 47%.
TetraLogic to Acquire Shape Pharmaceuticals for $13M in Cash
The Deal:
TetraLogic Pharmaceuticals (NASDAQ: TLOG) announced Monday that it has agreement to acquire by merger 100% of Shape Pharmaceuticals for an upfront cash payment of $13 million. TetraLogic is responsible for future development and commercialization milestones, as well as tiered royalties on product sales.
TetraLogic Pharmaceuticals closed Monday at $6.58, a loss of almost 4%.
Twitter Acquires Cover; Terms Not Disclosed
The Deal:
Twitter (NYSE: TWTR) acquired lockscreen app-maker Cover. The acquisition was announced on the Cover website. Terms of the deal were not disclosed.
Twitter closed Monday at $42.45, a loss of almost 2%.
View Comments and Join the Discussion!