Why Investors Shouldn't Hold Their Breath For A Nintendo Turnaround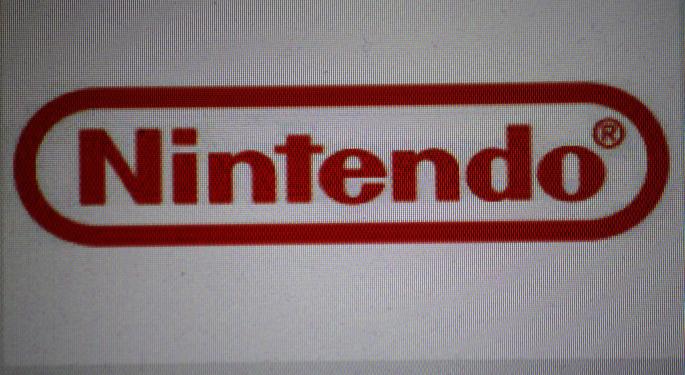 Nintendo (OTC: NTDOY) could rebound with a fresh console in the distant future, but don't expect Wii U to turn things around.
"I don't see any indication that they'll do anything different [in 2014]," Christine Arrington, Senior Games Analyst at IHS Electronics & Media (NYSE: IHS), told Benzinga. "Unfortunately, it seems to me that it is going to be them holding back, and I don't have the answer why that is."
Arrington is a big fan of Wii U and believes that it can outsell GameCube, which was Nintendo's lowest-selling console (only 21.74 million units were sold globally). But she is not sure which game will be the one to push Wii U, which has sold roughly six million units, above GameCube.
"I think that not just Nintendo but the game industry as a whole has gone too far in the direction of limiting the number of titles that they release," said Arrington. "There are a lot of franchises that are just getting old. I think it's the primetime for new IP to come out and exploit every aspect of Wii U and every benefit that there is on the machine."
Related: Wii U Sales Hurt By Retailer Confusion, Misinformation
Arrington said that's not a popular idea because "everyone wants to bank on a character or world that's proven itself in the past." But she said gamer demographics are getting older, while the younger generation is looking at phones, casual gaming, and different forms of content.
"This reiteration of the same content over and over again is wearing thin," she added. "I do think it's time for new IP and is something that will spark the minds of a new generation and show them that consoles are a place to game."
Don't Expect New IP From Nintendo…Yet
Historically, Nintendo has chosen to introduce new franchises at the start of a new console cycle.
Wii Sports, F-Zero, Luigi's Mansion, Wave Race 64 and the original Pikmin were all released at or around the launch of a new Nintendo system.
Only two prominent, brand-new Nintendo franchises -- Donkey Kong Country and Star Fox, both SNES games -- debuted long after a console was released.
Unfortunately, Arrington does not expect Nintendo to bring new franchises to Wii U this late in the game.
"I think it's something that would be an important thing because, as we've said, they haven't taken advantage of the paradigm that they created," she said. "But I don't think they'll do it."
Franchise Strength Or Lack Thereof?
Wii U's lineup is very similar to GameCube, but the sales have yet to catch up: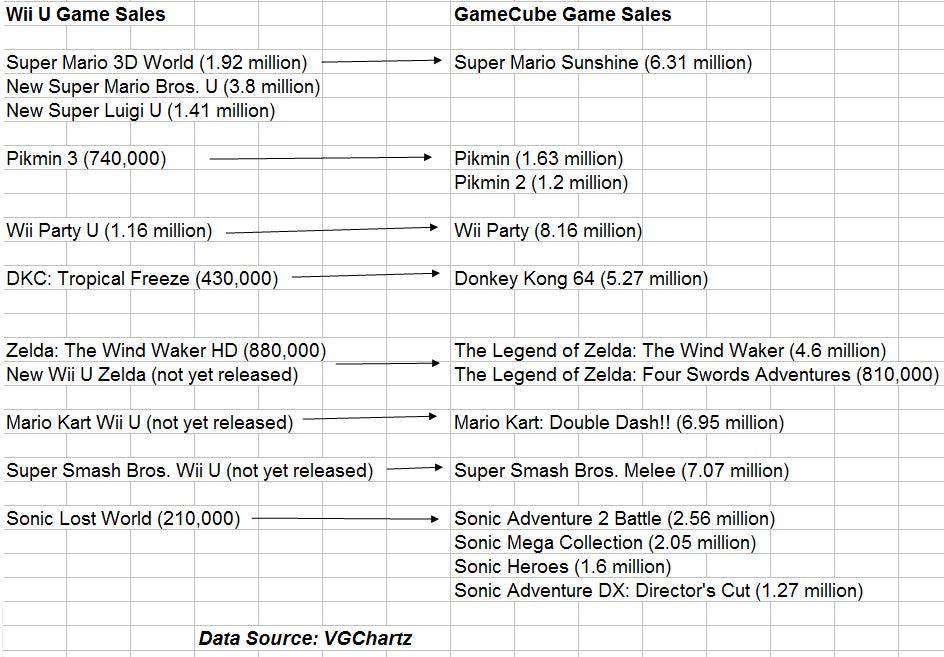 Disclosure: At the time of this writing, Louis Bedigian had no position in the equities mentioned in this report.
Posted-In: Christine Arrington comments Donkey Kong Country F-Zero IHS IHS Electronics & MediaNews Tech Best of Benzinga
View Comments and Join the Discussion!